As low as
$24.59
Regular Price
$32.78
Details
Medically Reviewed by
Dr. Akanksha Kaushal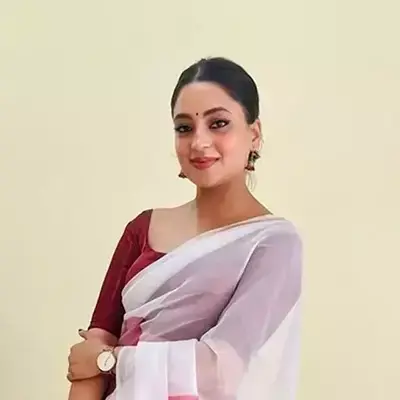 Dr. Akanksha, Pharm-D
Dr. Akansha is a licensed Clinical Pharmacologist with extensive expertise in pharmacovigilance, prescription analysis, drug information, and safety. She's a dedicated educator and avid learner. Dr. Akansha also reviews medical content on GoodRx Medicine, ensuring accurate pharmaceutical information is accessible to all.
Written by
Julian Carter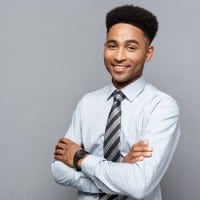 Julian Carter
Julian, an MBA in Pharmaceutical Management, brings a dynamic blend of expertise and impact with his contributions at Goodrxmedicine. His dedication and innovative spirit continue to shape a brighter future in pharmaceutical management.
What is Phallus Power 160 mg?
Phallus Power 160 mg is an effective drug to treat Erectile Dysfunction(ED) in men. 
Phallus Power 160 mg consists of Sildenafil Citrate as its active ingredient. 
Lotus Biotech Ltd manufactures the drug. 
Uses of the drug
Phallus Power 160 mg is used to treat ED in men. 
Erectile Dysfunction occurs when the blood flow to penis is and thus making it difficult for men to get an erection. 
160 mg Phallus Power aids men in getting and maintaining the erect posture of the penis.
Working of the drug
Phallus Power's 160 mg tablet is a Phosphodiesterase type 5(PDE5) inhibitor medicine that contains a significant amount of Sildenafil Citrate. It is also the active ingredient of PhallusPower 160 mg. 
It is a popular and effective treatment doctors highly recommend for treating impotence in men.
The Phosphodiesterase type 5 (PDE5) enzyme in the penis causes it to become flaccid after ejaculation during sexual intercourse. 
The ED drug restricts the performance of this enzyme and keeps the penis erect for effective sexual activity.
Within 30-40 minutes of taking the drug, 160 mg Phallus Power tablet begins to work, and the impact might persist for up to 4-5 hours.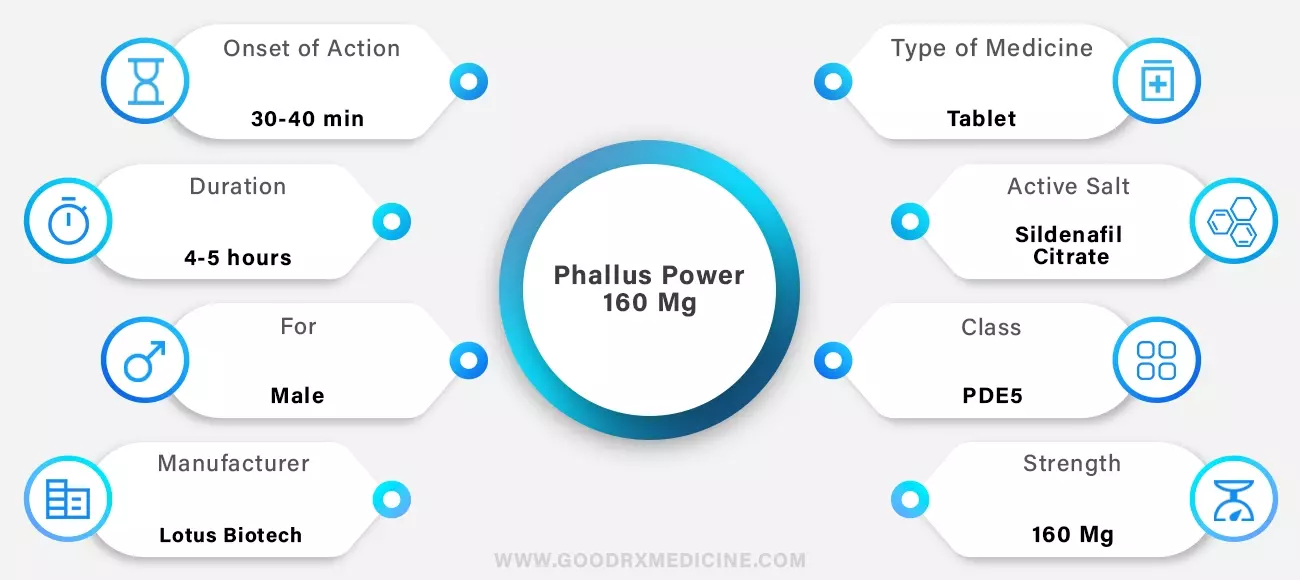 How to use the drug?
Phallus Power 160 mg should be taken when only prescribed by a medical professional. 
You should take these Sildenafil Citrate tablets only once a day.
You can take it at least 30 minutes and not more than 4 hours before the sexual activity. 
A high-fat meal can delay the drug's action. Hence, it's better to take it after eating light meals. 
Strength
Besides 160 mg, the drug is also available in strengths of 110 mg and 210mg.
Side effects 
Phallus Power 160 mg is a trusted medication and commonly shows some minor side effects
Dizziness 
Flushing 
Upset stomach
Blurred vision
Bleeding nose
Sneezing
Difficulty in sleeping 
Drowsiness
Rarely seen side effects of the drug include
Bleeding in the eye
Aches and pains in the bones and chest
Depression
Seizures
Chills or a fever
Pain in bladder
Blood in urine
Prolonged and painful erection
Light sensitivity
Ulcers on the skin
Throat irritation
The above side effects are rare and happen only in case of missed or overdose. Please follow your doctor's instructions to avoid any severe side effects. 
Interaction
Drug Interactions
The medicines that interact with 160 mg Phallus Power include, 
Nitrates: When taken with nitrates, it may cause a drop in blood pressure. These drugs include medicines to cure chest pain/Angina. 
Doxazosin, Tamsulosin: These drugs treat enlarged prostate or Hypertension. Interaction with 160 mg strength Phallus Power tablet can cause severe blood pressure drop.
Other drugs like Itraconazole, Ketoconazole, and Macrolide antibiotics, can affect the action of Phallus Power's 160 mg strength tablet in your body. 
Riociguat: The drug is used to cure Hypertension and can interact with Phallus Power's 160 mg tablet to show side effects. 
Disease Interaction
The diseases that show interaction with Phallus Power 160 mg include,
Cardiovascular disease
Pulmonary disease
Peyronie's disease
Stomach ulcers or bleeding
Sickle Cell Anemia
Renal Dysfunction
Priapism
Loss of hearing
Liver disease
Retinitis Pigmentosa
Seizure disorders
Precautions to be taken 
In case of heart complications and cardiovascular diseases, inform your doctor before taking the medicine
You should avoid using other ED medications with Phallus Power 160 mg. It may lead to an overdose of medicine. 
Avoid intake of alcohol as interacting with the drug may cause dizziness. 
Phallus Power's 160 mg strength tablets are not recommended for children and women. 
Consult your physician immediately if you experience any of the side effects. 
Storage
Keep the drug away from direct sunlight in a cool and dry place. 
Frequently Asked Questions
What to do If I overdose on the medicine?
You should take medicine as per your doctor's instructions. Overdose symptoms include dizziness, fainting, or a painful/prolonged erection. If you experience any of these, search for immediate medical help.
At what time should I take Phallus Power 160 mg? 
You can take Phallus Power 160 mg at least 30 minutes to 1 hour before the sexual activity. 
The effect of the medicine lasts for 4-5 hours. 
Is it important to have a prescription to buy Phallus Power?
Yes, Phallus Power is available only on prescription of a certified doctor.
Disclaimer:
GoodRxmedicine is entirely unrelated to GoodRx in any way or form. We hereby deny any sponsorship, endorsement, or affiliation between GoodRx.com USA and Goodrxmedicine.com India. GoodRxmedicine is an Indian online Pharmacy only dealing in selling generic medicines in compliance with the law to its full extent of the Republic of India.
The content on this page is intended for informational purposes only and should not be construed as medical advice, treatment, or diagnoses under any circumstances. Goodrxmedicine.com - India is an online Indian pharmacy dealing in Generic pharmaceutical products within the permissible extent of the law. Before self-medicating, consult a doctor if you have any doubts or questions related to your health. For any queries or concerns, write to us at
[email protected]