Horny Goat Weeds and Viagra are used to treat Erectile Dysfunction in men.

Erectile Dysfunction (ED) is a common sexual dysfunction, making it difficult for a man to get and keep an erection.

Thus, to treat ED, doctors often prescribe Pfizer's Viagra. However, there are many popular alternatives to Viagra.

These substitutes include over-the-counter medicines like Horny Goat Weed.

So, let's dive deep to understand how to choose between Horny Goat Weed and Viagra.
Table of Contents
What is Viagra
As mentioned, Viagra treats impotence in men. It was in 1998 that it became one of the first FDA-approved medicines to treat impotence in men.

The active component of Viagra is Sildenafil Citrate. Sildenafil belongs to a group of Phosphodiesterase type 5 (PDE5) inhibitors.

These pills inhibit the PDE5 enzyme and maintain the desired cyclic Guanosine Monophosphate (cGMP) levels in the body for erection.
Suggestion
Do not take Viagra pills with high-fat meals. This might affect the absorption of the medicine in the body.
To know more about how Viagra pills work, you can read How does Viagra work.
What is Horny Goat Weed
Horny Goat Weed is an over-the-counter (OTC) marketed to treat ED in men.

The active component in this herbal medicine is Icariin, extracted from the Epimedium plant.

There have been claims that Icariin inhibits the PDE5 enzymes in the penile region. Further, it works by relaxing and easing the flow of blood.

However, very little research claims that Horny Goat Weed has treated ED in men.
Horny Goat Weed vs Viagra: A Comparison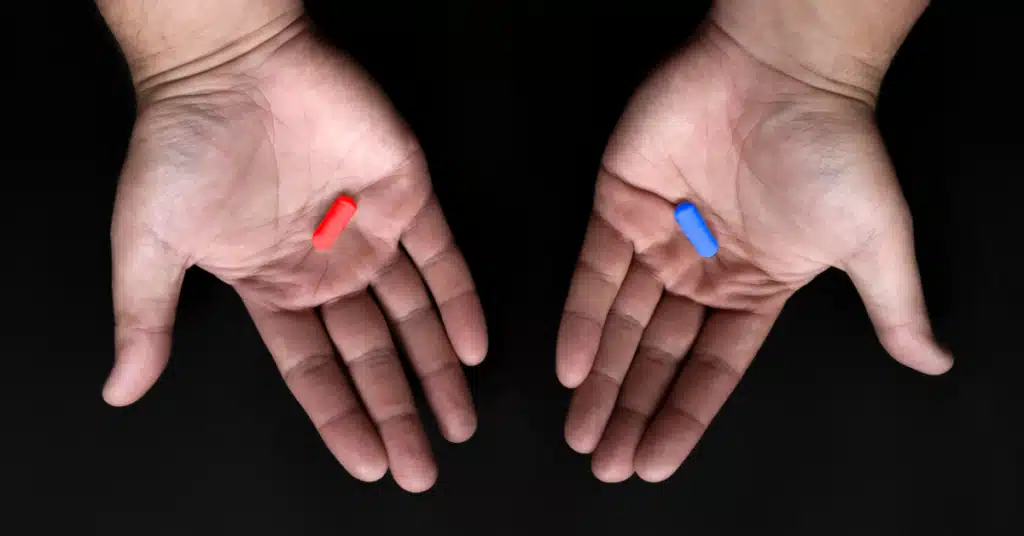 As mentioned, Horny Goat Weed and Viagra can both be used to treat ED in men.

However, there have been debates regarding the choice. So, now that you know about these pills, here's a brief comparison that will help you make the right choice.
How fast does Horny Goat Weed work
Horny Goat Weed can treat ED.

You should take the supplement for around a month to start seeing results because, as you should be aware, it could take some time for the medicine's benefits to become apparent.

Comparatively, Viagra is a need-based pill. It helps to treat erection issues within 30 to 60 minutes of intake.
Is there a Horny Goat Weed for women?
Horny Goat Weeds are also available for the use of women. They help improve sexual desire, increase libido, relieve the nervous system, and support energy and stamina levels.

Apart from treating Sexual Dysfunction in men and sexual inability in women, it is also used to treat Cardiovascular conditions, fatigue, brain injury, etc.

Compared to Horny Goat Weed, Viagra is not for women. However, there are medicines like Lovegra (Sildenafil) which help increase libido and sexual stimulation in women.
When to take Horny Goat Weed?
Horny Goat Weed is supposed to be taken 90 minutes before sexual intercourse. Unlike Goat Weed, Viagra should take 30 to 60 minutes before sexual intercourse.
What are the side effects of Goat Weed?
Horny Goat Weed has been claimed to have specific side effects, including Nausea, vomiting, irritability, etc.

Researchers claim that Horny Goat Weed can worsen bleeding, etc.

Since this weed acts like estrogen, it might develop estrogen-specific conditions like breast Cancer.
Contrastingly, Viagra has mild to rare side effects, including headache, Nausea, indigestion, etc.
Horny Goat Weed vs Viagra: What is more effective
According to research, Icariin has proved effective, but certainly, Sildenafil is 80 times more potent than Icariin.

Because of these safety concerns, Horny Goat Weed is not recommended by the doctor for use.

Contrastingly, Viagra is an FDA-approved and clinically proven medicine to treat Erectile Dysfunction in men.

It is safe to use and has proven itself as a first-choice treatment for Sexual Dysfunction in men.
A brief comparison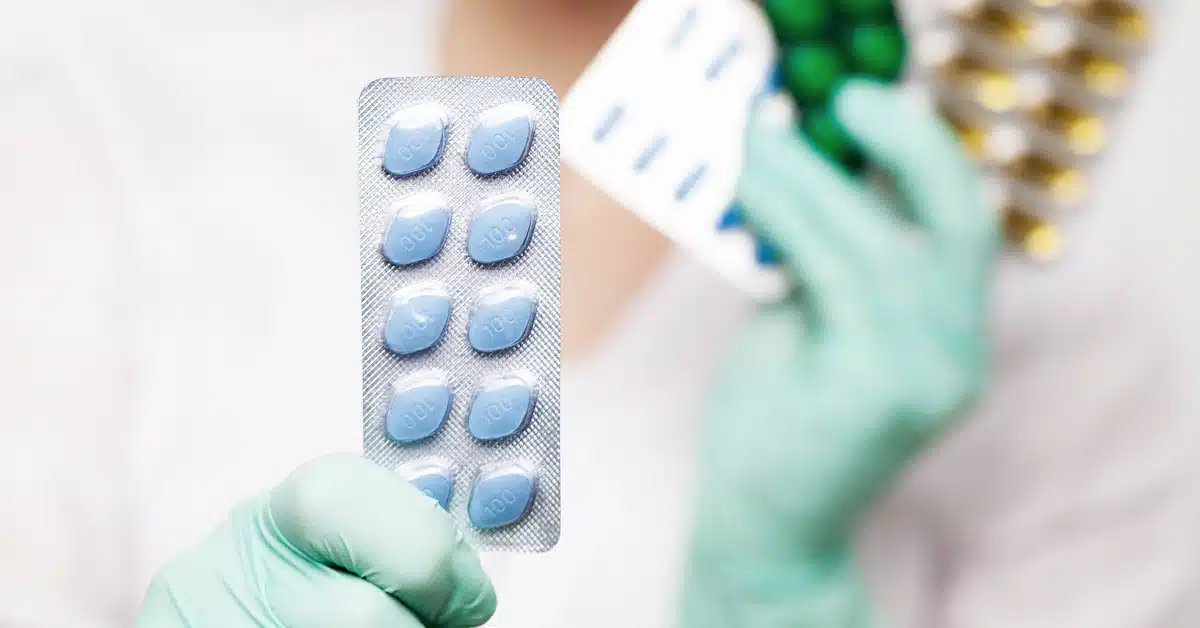 | Comparison | Horny Goat Weed | Viagra |
| --- | --- | --- |
| Active ingredient | Icariin (herbal) | Sildenafil |
| Prescription | Not required | Required |
| Action Time | Approx 90 minutes | 30 to 60 minutes |
| Side effects | Severe side effects can lead to Cancer, blood clotting, etc. | Mild to medium side effects like Nausea, headache, etc |
| Approvals | Not clinically approved | FDA-approved, trusted medicine |
Frequently Asked Questions
Can you take Horny Goat Weed with Viagra?
No, you should not take Viagra along with any other ED medicines. Over-the-counter pills, herbal ED supplements, etc., can interact with Viagra. Thus, abstain from taking them simultaneously.
Does Goat Weed make you bigger?
No, Horny Goat Weed does not make you bigger. There has been no such evidence of increased or enhancement of penis size after taking this herbal med.
How much Horny Goat Weed should I take?
Other than the recommended serving established by the manufacturer, there is no standard dosage for Goat Weed. As a result, depending on the brand, the amount of horny goat weed serving varies from 500 to 1,000 mg.
Citations:
When referencing outside resources, GoodrxMedicine always provides full citations. To learn more about the measures we use to maintain the quality of our content, please review our
Content Information Policy
.