Details
Medically Reviewed by
Dr. Akanksha Kaushal
Dr. Akanksha, Pharm-D
Dr. Akansha is a licensed Clinical Pharmacologist with extensive expertise in pharmacovigilance, prescription analysis, drug information, and safety. She's a dedicated educator and avid learner. Dr. Akansha also reviews medical content on GoodRx Medicine, ensuring accurate pharmaceutical information is accessible to all.
Written by
Julian Carter
Julian Carter
Julian, an MBA in Pharmaceutical Management, brings a dynamic blend of expertise and impact with his contributions at Goodrxmedicine. His dedication and innovative spirit continue to shape a brighter future in pharmaceutical management.
What is Kamagra Chewable Tablet?
Kamagra chewable Tablet is a medicine that can help treat impotence in men. 
Ajanta Pharmaceuticals manufacture it. They also manufacture other variants and strengths of Kamagra. 
Some other popular variants are Super Kamagra, Kamagra Tab 100 mg, and Kamagra oral jelly 100.
You can buy these medications with a doctor's prescription only.
Kamagra Chewable Uses 
As mentioned above, Kamagra treats impotence or Erectile Dysfunction in men.
Erectile Dysfunction is a man's inability to get and maintain an erection for sexual intercourse. 
Kamagra chewable tablets containing Sildenafil can help a man get an erection when sexually stimulated.
How to use Kamagra Chew Tablets?
You can take Kamagra chewable tablets with or without food. 
As these are soft chewable tablets, you need not swallow them whole. You can chew the pill for about 30 to 60 minutes before engaging in sexual activity. 
You can also follow the instruction of your doctor about taking medicine.
This medicine is not recommended for women.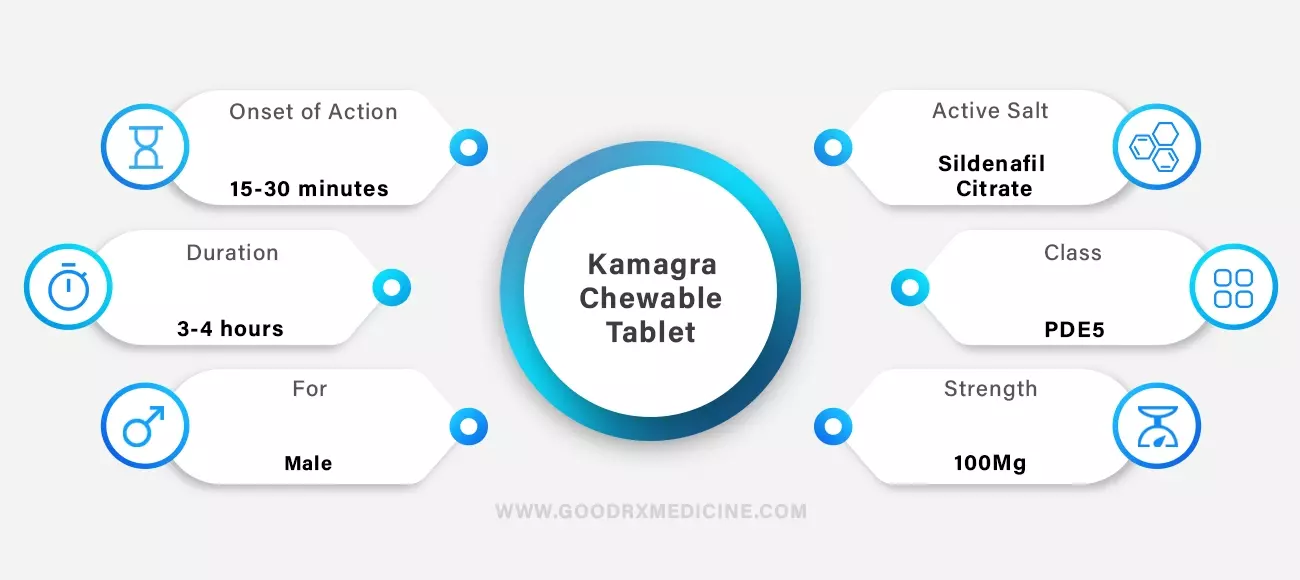 How does Kamagra Chewable Tablet work?
The chewable tablet belongs to a group of medicines called PDE5 inhibitors. 
The active ingredient Sildenafil helps men get an erection or keep one going.
It works by making your penis' blood vessels more relaxed. 
When a man is sexually aroused, Sildenafil lets blood flow into the penis and causes an erection.
This medicine will help you get an erection only if you are already feeling sexually aroused.
It works very well, but you must take it at least 30 minutes before engaging in sexual activity.
If you also take nitrates medicines, don't take this one (often given for chest pain).
Side effects
Most side effects don't need medical help and go away as your body gets used to the drug. 
Flushing 
Headache
Stiffness
Nosebleeds
Can't see clearly
Indigestion
Muscle pain
Upset stomach
Rash
Reach out to your doctor if the side effects keep on happening or if they worry you.
Interactions
It is always a good decision to share your medical history with your doctor. 
It would help if you also inform your doctor about any allergies and medications you are taking.
Drug Interactions
Some drugs that interact with Sildenafil present in Kamagra chewables are
Amlodipine
Carbamazepine
Clarithromycin
Dexamethasone
Ketoconazole
Nitroglycerin
Isoniazid
Warfarin
Disease Interactions
You should be careful taking medicine if you have the following conditions
Cardiovascular diseases
Kidney disease
Trouble in retina
Inform your doctor before taking Kamagra chew tablets.
Food interactions
The main component of Kamagra is noted to interact with 
Precautions
Anyone under the age of 18 should not consume Kamagra.
Avoid driving or taking part in rigorous activities after taking medicine, as side effects can stay for a while.
Do not eat more than one chewable tablet a day. You must stick to your doctor's instructions only.
Breast-feeding women should especially avoid Kamagra chewables. 
Storage
Always keep Kamagra in a cool and dry place, away from direct sunlight. 
Keep all medications out of the reach of children.
General Frequently Asked Questions
What is Kamagra chewable? 
Kamagra Chewable with active salt Sildenafil is a prescription med used to treat Erectile Dysfunction in men. 
This medicine helps men maintain an erection for as long as they want.
How long does Kamagra tablet take to work?
For best results, take Kamagra an hour before you plan to have sex.
It usually takes about 30 minutes and 1 hour.
However, the total effect of the medicine can take different amounts of time for other people. 
Are Kamagra tablets safe?
Yes, Kamagra tablets are safe as the active ingredient Sildenafil is FDA approved. 
It is entirely safe for you to take Kamagra chewable.
If any of the side effects mentioned exist, immediately stop taking medicine and visit your nearest doctor. 
Disclaimer:
GoodRxmedicine is entirely unrelated to GoodRx in any way or form. We hereby deny any sponsorship, endorsement, or affiliation between GoodRx.com USA and Goodrxmedicine.com India. GoodRxmedicine is an Indian online Pharmacy only dealing in selling generic medicines in compliance with the law to its full extent of the Republic of India.
The content on this page is intended for informational purposes only and should not be construed as medical advice, treatment, or diagnoses under any circumstances. Goodrxmedicine.com - India is an online Indian pharmacy dealing in Generic pharmaceutical products within the permissible extent of the law. Before self-medicating, consult a doctor if you have any doubts or questions related to your health. For any queries or concerns, write to us at
support@goodrxmedicine.com