Details
Medically Reviewed by
Dr. Akanksha Kaushal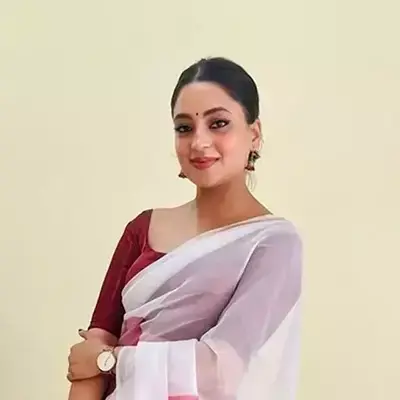 Dr. Akanksha, Pharm-D
Dr. Akansha is a licensed Clinical Pharmacologist with extensive expertise in pharmacovigilance, prescription analysis, drug information, and safety. She's a dedicated educator and avid learner. Dr. Akansha also reviews medical content on GoodRx Medicine, ensuring accurate pharmaceutical information is accessible to all.
Written by
Julian Carter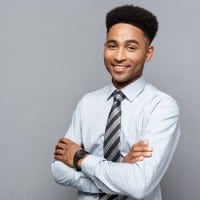 Julian Carter
Julian, an MBA in Pharmaceutical Management, brings a dynamic blend of expertise and impact with his contributions at Goodrxmedicine. His dedication and innovative spirit continue to shape a brighter future in pharmaceutical management.
About Bimat 0.03% wv
BIMAT 0.03 % wv is a popular treatment for glaucoma (particularly Open Angle Glaucoma) and eyelash development.
Bimatoprost, a prostaglandin analog, is included in BIMAT Eye drops.
It is used to treat two conditions: open-angle glaucoma and hypotrichosis.
Uses of Bimat 0.03% wv
Bimat 0.03% wv is used in the following conditions:
Open-angle glaucoma
Glaucoma refers to a collection of disorders that affect a person's eyes.
Open-angle glaucoma is the most prevalent, painless condition that causes vision loss and irreversible blindness.
Intraocular pressure increases at an alarming rate in open-angle glaucoma, resulting in vision loss.
BIMAT aids in treating open-angle glaucoma by lowering intraocular pressure.
Hypotrichosis
Hypotrichosis is a disorder in which hair development slows, or hair loss occurs in a specific body area.
BIMAT 0.03% wv eye drops have been demonstrated to aid in repairing hair in the eye area, primarily eyelashes when used by patients.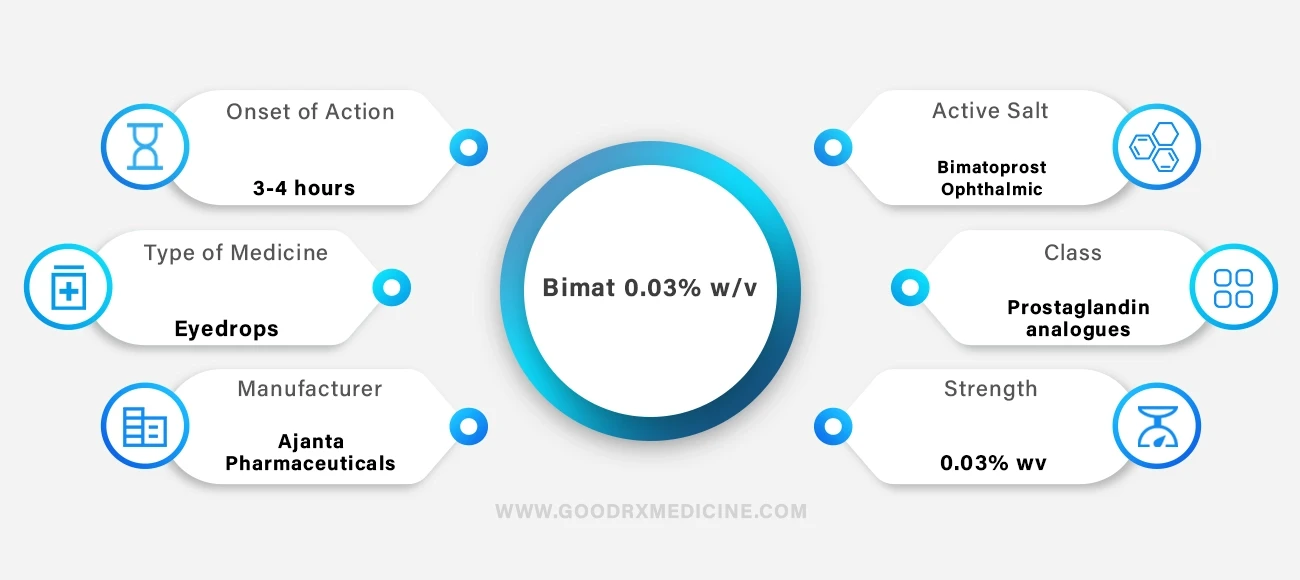 How does Bimat 0.03% wv work?
The major element in BIMAT 0.03% wv is Bimatoprost.
These eye drops primarily aid in opening clogged drainage pathways in the eye area.
The intraocular pressure gets reduced when the eye's drainage channels are opened.
It is because the extra fluid in the inner space of the eye is discharged.
The fluid of the eye is most commonly known as Aqueous Humor. 
Doses:
It is advised to take one dose per day.
But, you should strictly follow the doctor's prescription for the proper doses.
In case you miss any dose, skip it and continue with the usual schedule of your dose.
Do not double the dose or overdose yourself.
For better results, try taking medicine at the same time every day. 
How to take the drug?
The drops should be put in one eye at a time, with caution. Pull the lower eyelid down with your index finger and make a pocket in the eye. Close and open the eyelid to disperse the medication across the ocular area. Use only one drop each day, and follow the doctor's instructions.
To treat Hypotrichosis, gently apply the drop with an applicator to the root of the eyelashes, focusing on the upper eyelashes region.
Strength 
The BIMAT solution has a strength of 0.03 mg/ml and comes in a jar with a 3 ml capacity.
Interactions
Drug-Drug Interactions
Other prostaglandins ophthalmic medications like Latanoprost, Tafluprost, Travoprost, and Unoprostone may interact with this drug
Drug-Food Interactions
Non-prescription drugs, vitamins, nutritional supplements, and herbal items you are taking or intend to use may interact with BIMAT 0.03%
Drug-Disease Interactions
If you have had liver or renal problems, Uveitis (eye inflammation), or Macular Edema (fluid buildup in the eye resulting in swelling), tell your doctor
Side Effects of BIMAT 0.03% wv
The following are some of the side effects of taking BIMAT eye drops:
Eye dryness
Watering eyes\
Itchy eyes 
Discomfort in the eyes
Burning feeling in the eyes 
Changes in eyesight
Precautions to be taken
Anyone suffering from Glaucoma disease and above the age of 18 can use Bimat 0.03% wv.
However, you must consult a doctor before taking the drug.
You should avoid the usage of solution in the following cases:
Wearing contact lenses: You should remove the contact lenses before using eye drops. You can wear the contact lenses back after 2 hours of application
Consumed Alcohol: Intake of Alcohol with Bimat 0.03%wv can adversely affect your liver
Pregnant or planning on conceiving: The eyedrops can affect the fetus or pregnant women
Allergic to Bimatoprost
Experiencing discomfort in your eye
Suffering from headaches
Storage
Store the drug away from sunlight and in a cool and dry place. Ajanta Pharmaceuticals manufactures these popular eye drops.
Disclaimer:
GoodRxmedicine is entirely unrelated to GoodRx in any way or form. We hereby deny any sponsorship, endorsement, or affiliation between GoodRx.com USA and Goodrxmedicine.com India. GoodRxmedicine is an Indian online Pharmacy only dealing in selling generic medicines in compliance with the law to its full extent of the Republic of India.
The content on this page is intended for informational purposes only and should not be construed as medical advice, treatment, or diagnoses under any circumstances. Goodrxmedicine.com - India is an online Indian pharmacy dealing in Generic pharmaceutical products within the permissible extent of the law. Before self-medicating, consult a doctor if you have any doubts or questions related to your health. For any queries or concerns, write to us at
[email protected]