Details
Medically Reviewed by
Dr. Akanksha Kaushal
Dr. Akanksha, Pharm-D
Dr. Akansha is a licensed Clinical Pharmacologist with extensive expertise in pharmacovigilance, prescription analysis, drug information, and safety. She's a dedicated educator and avid learner. Dr. Akansha also reviews medical content on GoodRx Medicine, ensuring accurate pharmaceutical information is accessible to all.
Written by
Julian Carter
Julian Carter
Julian, an MBA in Pharmaceutical Management, brings a dynamic blend of expertise and impact with his contributions at Goodrxmedicine. His dedication and innovative spirit continue to shape a brighter future in pharmaceutical management.
What is Banocide Forte 100 mg? 
Banocide Forte 100mg is a drug used to treat different kinds of worm infections in humans. 
It is a highly trusted Anthelmintic for treating diseases like Filariasis. 
The active component in the medicine is Diethylcarbamazine.
It causes Phagocytosis of the Filarial worms resulting in their death. 
GSK PLC manufactures the drug. 
Banocide Forte 100 mg Uses
Banocide Forte 100mg has its efficiency against some of the severe worm infestations.
It aids in treating several worm infections, such as, 
Bancroft's Filariasis- A condition where worm infestation causes swelling of the legs, arms, genitals etc
River Blindness- A parasitic infestation causing damage to the eyes and skin
Loiasis- Nematode infection affecting the skin and eyes
Eosinophilic lung- An inflammatory condition of the lung
Toxocariasis- Infection causing cyst formation in the eyes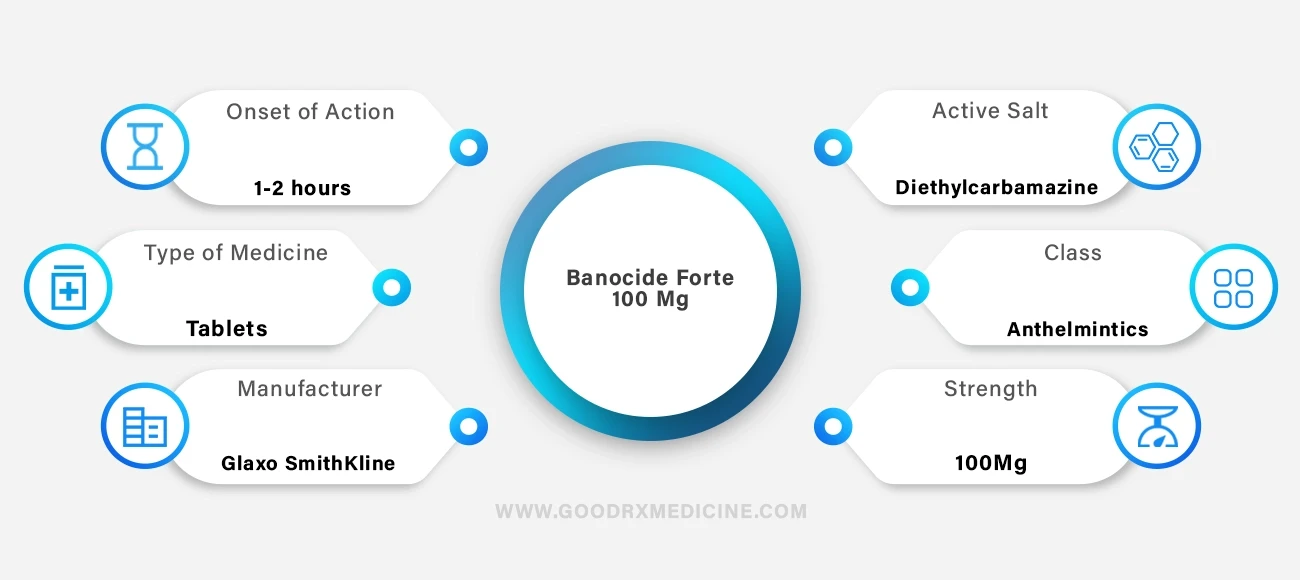 Working of the drug 
The drug consists of Diethylcarbamazine as its active ingredient. It has been categorized as a small molecule systemic antihelminthic. 
The pharmacological activity of Banocide Forte is attributed to the presence of Diethylcarbamazine. This molecule acts in different ways on different worms. 
Diethylcarbamazine inhibits enzymes like Cholinesterase and Lipoxygenase in the worms that affect the body.
The drug also affects the muscles and decreases their activity. 
This way, the Filariae is immobilized, facilitating the Phagocytic action of the immune system.
Banocide Forte 100 mg Dosage
You must use Banocide Forte carefully, precisely as per the instructions of a physician. 
The correct dosage regimen is essential for achieving its full efficacy. 
The duration of treatment varies in different disease conditions.
In the case of Filariasis- It is given for 14 days in divided doses every day. The tablet is to be taken after meals. During the first 2-3 days of treatment, the drug is given in small doses, increasing the strength. The dose is usually half the adult dose in children below ten years.
In tropical Eosinophilia- The duration of therapy is 21 days. Repeat the treatment if symptoms return.
Asymptomatic carriers- Banocide Forte is given until the dose reaches 72mg/kg. It is sometimes given in divided doses over six months to 12 months.
Take medicine and do not chew, crush or break it.
You should drink plenty of water to reduce the acidification of urine.  You must complete the period of treatment. Do not skip doses as it will hamper the efficacy.
Side effects
A few minor Banocide Forte side effects are seen during the treatment period, such as:
Fever
Chills
Tiredness
Localized Oedema- like swollen glands in the neck region
Rashes
Nausea
Vomiting
Vertigo- loss of balance
Seizures- in those with a history of epileptic conditions
Myalgia- pain in the muscles
Arthralgia- pain in the joints
Rashes in a different areas
Abdominal pain
Anorexia- abnormally low body weight
Interactions 
Drug Interactions 
There are specific drug interactions with Banocide Forte 100 mg that one must look out for:
Anti-malarial drugs- Banocide Forte is found to interact with Anti-malarial drugs causing unwanted effects
Acetazolamide- There is a significant interaction of Banocide Forte 100 mg and Acetazolamide, which can be potentially harmful to the patient
There are many interactions with drugs that can cause the serum concentration of Banocide Forte 100 mg tab to either reduce or reach toxic levels. 
Disease Interactions
Banocide Forte tablet 100 mg is not recommended use for patients suffering from or with a history of 
Seizures
Eye complications
Severe renal issues
Enlarged Prostate
Difficulty Urinating
Asthma attack
When to avoid taking this drug
The drug is contraindicated in the following cases:
Hypersensitivity- the drug is to be avoided in case of an excessive allergic response to Diethylcarbamazine or any other ingredients present in Banocide Forte
This medication contains lactose. Those with lactose intolerance and related problems are advised against consuming it. 
Those having Epileptic symptoms are advised not to take this medication. Dose adjustment is made under such circumstances
It is highly recommended to avoid driving while taking the medicine as there are increased chances of feeling drowsy
There are increased chances of accidents while operating heavy machinery; avoid it completely
Precautions
Be aware of the below-mentioned precautions to prevent unnecessary reactions:
Pregnancy- Banocide Forte is not to be used during any stages of pregnancy. The fetus is severely affected by this medication. It is recommended that she starts treatment after parturition (giving birth).
Lactation- no proper records show secretion of the active drug molecule into the breast milk. However, the nursing mother should not take this medication or is recommended not to breastfeed while under treatment.
Alcohol- any interaction with alcohol is not known. Nonetheless, avoid alcohol consumption so that the side effects are not enhanced.
Storage
Some simple storage instructions for Banocide Forte are mentioned below:
Keep the strip closely packed and away from moisture. 
Direct sunlight should not be allowed to fall on the tablets for prolonged periods.
The ideal condition to store is room temperature between 18 to 30 degrees Celsius. 
Frequently Asked Questions
Is this medication habit forming?
No, Banocide Forte does not possess any habit-forming properties.
How long should I take this medication?
The duration of treatment with Banocide Forte depends on the type and severity of the worm infestation. Your doctor will decide. 
For example, Filariasis requires therapy for 14 continuous days.
Is Banocide Forte a steroid?
No, Banocide Forte 100 mg tablet is not a steroid. It consists of Diethylcarbamazine as its ingredient and is used to treat worm infections. 
Disclaimer:
GoodRxmedicine is entirely unrelated to GoodRx in any way or form. We hereby deny any sponsorship, endorsement, or affiliation between GoodRx.com USA and Goodrxmedicine.com India. GoodRxmedicine is an Indian online Pharmacy only dealing in selling generic medicines in compliance with the law to its full extent of the Republic of India.
The content on this page is intended for informational purposes only and should not be construed as medical advice, treatment, or diagnoses under any circumstances. Goodrxmedicine.com - India is an online Indian pharmacy dealing in Generic pharmaceutical products within the permissible extent of the law. Before self-medicating, consult a doctor if you have any doubts or questions related to your health. For any queries or concerns, write to us at
[email protected]