Details
Medically Reviewed by
Dr. Akanksha Kaushal
Dr. Akanksha, Pharm-D
Dr. Akansha is a licensed Clinical Pharmacologist with extensive expertise in pharmacovigilance, prescription analysis, drug information, and safety. She's a dedicated educator and avid learner. Dr. Akansha also reviews medical content on GoodRx Medicine, ensuring accurate pharmaceutical information is accessible to all.
Written by
Julian Carter
Julian Carter
Julian, an MBA in Pharmaceutical Management, brings a dynamic blend of expertise and impact with his contributions at Goodrxmedicine. His dedication and innovative spirit continue to shape a brighter future in pharmaceutical management.
What is Mebex 100 mg?
Mebex 100mg is an anthelmintic drug prescribed to treat parasitic worm infections.
Mebendazole, the main ingredient of this medicine, is used to treat infections caused by worms like hookworm, whipworm, and pinworm.
Uses of Mebex
If parasites are left unchecked in the human body, they can become a significant health risk.
Doctors recommend Mebex 100 mg tablet for the treatment of infections like:
Trichuriasis: This infection is caused by Trichuris trichiura. This parasite lives in the large intestine.
Pinworm infection: A thin, white roundworm called Enterobius vermicularis causes this infection. It is sometimes found in the colon and rectum.
Hookworm infection: The two main species that cause this infection are Ancylostoma duodenale and Necator americanus. The larvae and adult worms are found in the small intestine.
This medicine is also used for other Helminthic infections. Some of them are Giardiasis, Filariasis, Toxocariasis, Hydatid disease etc.
How does Mebex 100mg work?
Mebendazole, the main ingredient in medicine, is an anthelmintic agent. 
This medicine inhibits the worm from absorbing sugar. As a result, the worm starts to lose its energy and eventually dies.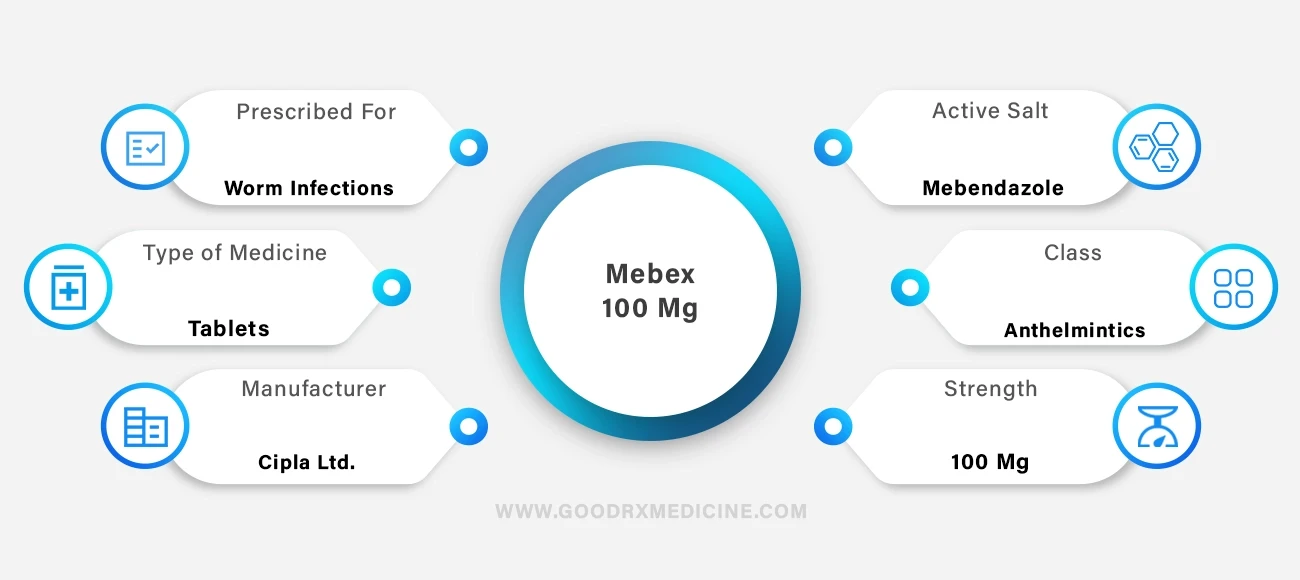 How to take Mebex 100 mg?
Check with your doctor before taking the 100 mg Mebex pills
The medicine should be taken orally with a glass of water
Do not crush or chew the tablets
Take the pill on an empty stomach
Interactions
You must inform your physician if you take herbal supplements or other drugs.
These tablets for parasitic infections can interact with the below-mentioned medicines:
Deferiprone
Ethotoin
Fosphenytoin
Metronidazole
Phenytoin
Acalabrutinib
Cimetidine
Carbamazepine
Side effects
The medicine may have some common side effects such as:
Headache
Abdominal pain
Loss of appetite
Hair loss
Bleeding
Fever
Sore throat
Vomiting
Nausea
Dizziness
Dosage
You should take Mebex 100 mg tablets as advised by the doctor. It is usually prescribed as a single-dose drug.
NOTE: Do not take more than the prescribed dosage of Mebex 100mg.
Missed Dose
If you miss a dose, take medicine when you have a chance. You can skip the missed dose if it's almost time for the next dose.
Overdose
It is vital to take this drug as per your doctor's prescription. In case of an overdose, seek medical assistance immediately.
Precautions
Do not consume Mebex if you are allergic to any ingredient
Before taking this drug, let your doctor know if you are breastfeeding, pregnant, or trying to conceive
Drink lots of fluids and avoid coffee when taking these tablets
Do not take this drug if you suffer from liver conditions.
Avoid consuming alcohol with this medication as it may increase the risk of side effects
Keep Mebex-100 mg out of the reach of children
Storage
Keep the medicine at room temperature below 30℃. Prevent exposure to direct sunlight and moisture. 
What are the available strengths and forms of Mebex?
The strength of medicine is the amount of active ingredients in it.
Doctors prescribe the medicine depending on the severity of the infection.
Mebex 100 mg, manufactured by Cipla, is available in multiple strengths such as:
Mebex 500 mg
Mebex Suspension 30 ml
The price of the drug differs for the strength recommended.
FAQ
What is Mebex 100mg?
Mebex 100 is an antiparasitic medicine. The main ingredient in the drug, Mebendazole, helps treat hookworm, pinworm, and other parasitic infections.
What is Mebex 100 mg used for?
This medicine is used to cure parasitic infections. Doctors prescribe the drug for infections like Trichuriasis, Enterobiasis, and Ancylostomiasis.
Can I use this medicine if I am pregnant?
This medication is not for pregnant women. Please check with your doctor for an alternative.
Can I use this medicine if I am breastfeeding?
This medicine is not suitable for breastfeeding women. It would be best to consult your doctor.
Disclaimer:
GoodRxmedicine is entirely unrelated to GoodRx in any way or form. We hereby deny any sponsorship, endorsement, or affiliation between GoodRx.com USA and Goodrxmedicine.com India. GoodRxmedicine is an Indian online Pharmacy only dealing in selling generic medicines in compliance with the law to its full extent of the Republic of India.
The content on this page is intended for informational purposes only and should not be construed as medical advice, treatment, or diagnoses under any circumstances. Goodrxmedicine.com - India is an online Indian pharmacy dealing in Generic pharmaceutical products within the permissible extent of the law. Before self-medicating, consult a doctor if you have any doubts or questions related to your health. For any queries or concerns, write to us at
support@goodrxmedicine.com