Details
Medically Reviewed by
Dr. Akanksha Kaushal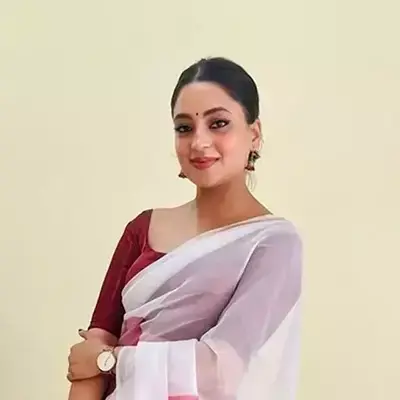 Dr. Akanksha, Pharm-D
Dr. Akansha is a licensed Clinical Pharmacologist with extensive expertise in pharmacovigilance, prescription analysis, drug information, and safety. She's a dedicated educator and avid learner. Dr. Akansha also reviews medical content on GoodRx Medicine, ensuring accurate pharmaceutical information is accessible to all.
Written by
Julian Carter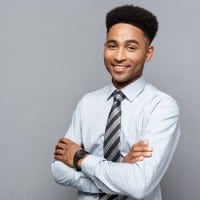 Julian Carter
Julian, an MBA in Pharmaceutical Management, brings a dynamic blend of expertise and impact with his contributions at Goodrxmedicine. His dedication and innovative spirit continue to shape a brighter future in pharmaceutical management.
About Zentel 400 mg
Zentel 400 mg is an antiparasitic worm medication.
Its primary salt, Albendazole, is commonly used to treat parasitic worm infections.
Parasites are organisms that rely on other organisms for a living. Zentel works by lowering the parasite's energy sources, weakening it, and finally killing it.
You may get Zentel 400mg at any major pharmacy.
GSK produces this medicine.
Zentel 400 mg Uses
The 400 mg strength Zentel tablet treats the following parasitic infections:
NeuroGSK cysticercosis
Cysticercosis is a disorder caused by the parasite infecting numerous sections of your body. 
 
Neurocysticercosis is the most severe type of Cysticercosis which affects the brain. 
Taenia Solium, a pig tapeworm, is the cause of Neurocysticercosis. 
It results in seizures (fits), headaches, dizziness, and other symptoms. 
Zentel 400 mg is an effective medication to treat Neurocysticercosis.
Hydatid Illness
Hydatid illness is also commonly known as Cystic echinococcosis.
The canine tapeworm, Echinococcus granulosus, causes it. 
The parasite may affect your brain, liver, lungs, and other organs. 
Animal feces harboring tapeworm eggs contaminate food and water, spreading the sickness. 
Tapeworm larvae-containing cysts can form in your body for years before symptoms arise. 
When cysts get large, they can cause nausea, coughing, weakness, stomach discomfort, chest pain, and other symptoms. 
The Zentel Albendazole tablets help in curing Hydatid Illness.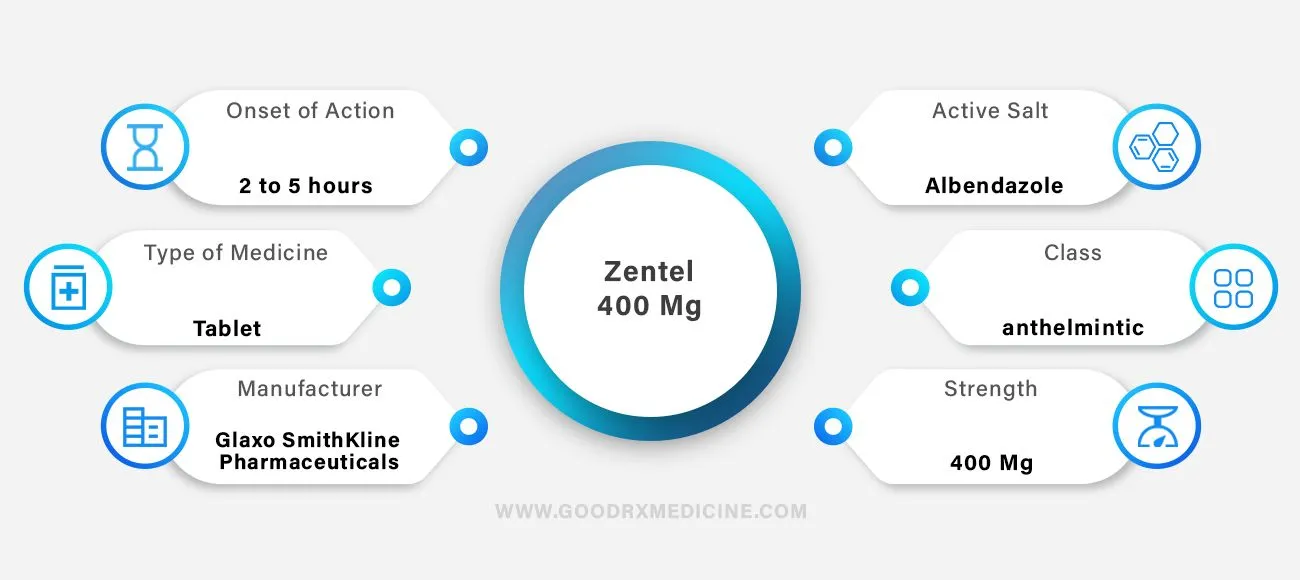 Working of Zentel 400 mg
This antiparasitic medicine uses Albendazole as its active ingredient. 
 It starves the worms to death. 
These Albendazole tablets prevent the worms from absorbing sugar (glucose), causing them to lose energy. 
The worms' eggs, larvae, and adults are all impacted.
The worms will die, and your illness will be treated. 
Dosage of Zentel 400 mg
The tablets are chewable and can be taken with or without food.
The Zentel 400 mg dosage depends on the disease to cure. 
Hence, you should always take a 400 mg Zentel tablet with your doctor's consultation. 
The 400 mg strength Zentel tablets can be taken by adults and children above the age of 2 years.
The medicine is not recommended for pregnant and lactating women. 
Zentel 400 mg Side Effects
The medicine might show some common side effects like:
Vomiting 
Excessive liver enzymes 
Patchy hair loss
Fever
Diarrhea 
Thinning of hair 
Itchy skin rash
In rare cases, one can also experience a low blood cell count. 
Interactions of Zentel 400 mg
Drug Interaction 
Zentel 400 mg strength tablets do not show severe side effects through interaction with other medicines. 
Some of the medicines that interact with Zentel include:
Carbamazepine
Phenytoin
Clozapine
Disease Interaction 
Liver Disease 
The Albendazole Tablet can affect liver disorders.
Hence, it should be used with a doctor's consultation if you have a history of liver issues. 
Your doctor may also need to monitor your liver function constantly.
Seizures
If you have ever had a history of seizures (fits), you should be careful while taking Zentel 400 mg Tablet therapy. It is because Zentel can further lead to increased episodes of fits.
Neurocysticercosis is a dangerous brain illness. 
Depending on your clinical situation, treatment with an anti-seizure medicine can be necessary.
Myelosuppression
A disorder known as Myelosuppression causes your body to produce fewer blood cells than usual. 
Zentel 400mg tablet is not suggested in such conditions since it may promote the further reduction of your red blood cells, platelets, and white blood cells. 
Precautions
This medication can cause dizziness. Hence, avoid taking it while driving and operating heavy machinery
Please avoid taking medicine if you are allergic to Albendazole
Zentel Albendazole tablets are not safe for intake in children below the age of 2
You can prevent the taking of grapefruit juice with Albendazole tablets. 
Storage of Zentel 400 mg
Keep the medicine away from sunlight in a cool and dry place. 
You should keep the medicine away from children and pets. 
Frequently Asked Questions
How much 400 mg of Zentel may I consume?
Zentel 400 mg is offered in numerous dosages and strengths.
Depending on the harshness of an individual's infection, the dosage and potency will vary.
Always confirm the appropriate dosage with your physician.
How Long Should You Keep Using Zentel 400 mg (Albendazole 400 mg)?
Take Zentel 400mg precisely as suggested by your physician.
Do not initiate or discontinue use on your own. Before altering your prescription or schedule, you should always see your doctor.
Is Zentel 400 mg a kind of antibiotic?
Zentel 400mg is indeed an antibiotic. It is utilized to treat a variety of parasite illnesses.
If I take Zentel 400mg, how long before I see results?
It could take up to three days for the medicine to take effect. Once you do that, the parasite infection may begin to subside.
When is the optimal time to consume Zentel 400 mg tablets?
You should take Zentel 400mg as prescribed by your physician. Doctors prescribe dosage and administration schedules based on the severity of the condition.
Who can take 400 mg of Zentel?
Adults with worries about Parasitic Worm Infection can take 400 mg of Zentel.
However, you should always verify if there are any restrictions on its use.
Who manufactures Zentel 400 mg?
GSK, a leading pharmaceutical company, produces Zentel 400mg.
Disclaimer:
GoodRxmedicine is entirely unrelated to GoodRx in any way or form. We hereby deny any sponsorship, endorsement, or affiliation between GoodRx.com USA and Goodrxmedicine.com India. GoodRxmedicine is an Indian online Pharmacy only dealing in selling generic medicines in compliance with the law to its full extent of the Republic of India.
The content on this page is intended for informational purposes only and should not be construed as medical advice, treatment, or diagnoses under any circumstances. Goodrxmedicine.com - India is an online Indian pharmacy dealing in Generic pharmaceutical products within the permissible extent of the law. Before self-medicating, consult a doctor if you have any doubts or questions related to your health. For any queries or concerns, write to us at
[email protected]