Details
Medically Reviewed by
Dr. Akanksha Kaushal
Dr. Akanksha, Pharm-D
Dr. Akansha is a licensed Clinical Pharmacologist with extensive expertise in pharmacovigilance, prescription analysis, drug information, and safety. She's a dedicated educator and avid learner. Dr. Akansha also reviews medical content on GoodRx Medicine, ensuring accurate pharmaceutical information is accessible to all.
Written by
Julian Carter
Julian Carter
Julian, an MBA in Pharmaceutical Management, brings a dynamic blend of expertise and impact with his contributions at Goodrxmedicine. His dedication and innovative spirit continue to shape a brighter future in pharmaceutical management.
About Ivecop 6 mg
Parasites are organisms that live off the body of other living organisms known as hosts.
Some parasites like Roundworms and Onchocerca Volvulus can cause severe infections, making humans sick.
Ivecop 6 mg is an antiparasitic tablet prescribed to treat Scabies, River Blindness, head lice, and other parasitic infections. It provides quick relief from parasitic infections. 
Ivermectin, the main ingredient of this medicine, is used to treat several tropical diseases, including Onchocerciasis, Helminthiases, and Filariasis. 
Hence, Ivecop 6 helps cure infections by paralyzing or killing the parasite in the body. This medicine is manufactured by TOSC International.
Ivecop 6 mg uses
If parasites are left unchecked in the human body, they can become a significant health risk.
Doctors recommend Ivecop's 6 mg tablet for the treatment of infections like:
Scabies:
This infection is caused by the parasite Sarcoptes scabiei. It is highly contagious and causes itchy skin.
Filariasis:
It is a tropical disease caused by a thread-like parasitic roundworm. Ivecop 6 mg can kill a lot of worms containing the infection. 
Onchocerciasis is also called 'River Blindness,' this disease affects the skin and eyes. This infection spreads through repeated bites of infected black flies. 
Strongyloidiasis:
 This medical condition is caused by parasitic roundworm Strongyloides stercoralis. Humans mostly get this infection by exposure to contaminated soil.
How does Ivecop 6 mg work
Ivermectin, the main ingredient in the medicine, is a semi-synthetic, anthelmintic agent. 
This medication selectively binds to the Glutamate-gated Chloride ion channels in the nerve and muscle cells of the organism. 
This binding makes the cell membrane more permeable to chloride ions.
The excessive ions cause the cell to hyperpolarize, which results in the paralysis and death of the parasite.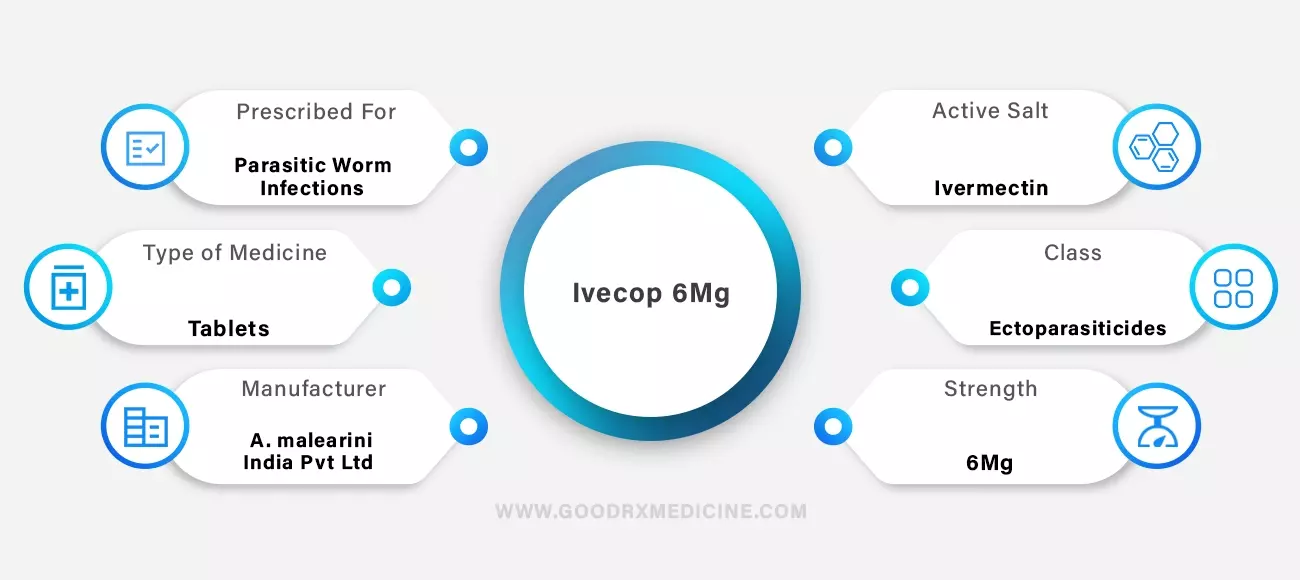 Ivecop-6 Dosage
It would help if you took Ivecop as advised by the doctor. It is usually prescribed as a single-dose medicine
It would be best if you took the tablet orally with a glass of water
 Do not crush or chew the medicine 
Take the pill on an empty stomach
Note: Do not take more than the prescribed dosage of Ivecop 6 mg.
Missed Dose
If your infection has not cleared, the doctor may recommend extra doses after some months. In such circumstances, if you miss a dose, take it as soon as you remember. 
Overdose
It is crucial to take this medicine as per your doctor's recommendation. In case of an overdose, seek medical assistance immediately.
Available strengths of Ivecop
The strength of medicine is the amount of active ingredients in it.
Doctors prescribe the medicine depending on the severity of the infection.
Ivecop 6 mg, manufactured by Tosc International, is available in multiple strengths such as:
The price of the medicine differs for the strength recommended. 
Side effects of Ivecop 6 mg
The medicine may have some common side effects such as:
Nausea/Vomiting
Fatigue
Muscle Pain
Fever
Skin rash
Increased heartbeat
Loss of appetite
Diarrhea
Swelling of the face, arms, hands, and lower legs
Interactions
Ivecop 6 mg might interact with some drugs, diseases, and food items. Thus, it would be best to always inform your doctor before taking this medication.
Drug Interactions
You must inform your doctor if you take herbal supplements or other drugs.
This medicine for parasitic infections might mildly interact with the below-mentioned medicines:
Oxcarbazepine
Warfarin
Amprenavir
Erythromycin
Disease interactions
You should keep away from this medication if you are suffering from the following conditions:
Bradycardia
Lung disease
Heart diseases
Kidney diseases
Asthma
Mazzotti reaction
Loa Loa Infection
Precaution
Do not consume Ivecop 6 Mg if you are allergic to any ingredient
Before taking this pill, inform your doctor if you are breastfeeding, pregnant, or trying to conceive
Abstain from taking in caffeine when you are on this medication. However, it's recommended that you drink a lot of fluid
Please do not drink alcohol with these tablets, as it may increase the risk of side effects
Keep the medicine out of the reach of children
Storage
Keep the medicine at room temperature below 30℃. Prevent exposure to direct sunlight and moisture. 
Frequently Asked Questions
What is Ivecop 6mg?
Ivecop 6 is an antiparasitic medicine. The main ingredient in the medicine, Ivermectin, helps treat Scabies, River blindness, head lice, and other parasitic infections.
What is Ivecop 6 Mg used for?
This medicine is used to cure parasitic infections. Doctors prescribe the pills containing Ivermectin for disorders like Scabies, Filariasis, Onchocerciasis, and Strongyloidiasis.
How long should I continue taking this medicine?
This medication is a single-dose tablet. If the infection is not cleared, your doctor may recommend additional doses after a few months.
Can I use this medicine if I am pregnant?
This medication is not recommended for pregnant women. Please check with your doctor for an alternative.
Can I use this medicine if I am breastfeeding?
This medicine is not suitable for breastfeeding women. It would be best to consult your doctor.
What are the common side effects of Ivecop 6?
The common side effects of 6 mg of Ivecop are nausea, headache, loss of appetite, fever, etc.
Disclaimer:
GoodRxmedicine is entirely unrelated to GoodRx in any way or form. We hereby deny any sponsorship, endorsement, or affiliation between GoodRx.com USA and Goodrxmedicine.com India. GoodRxmedicine is an Indian online Pharmacy only dealing in selling generic medicines in compliance with the law to its full extent of the Republic of India.
The content on this page is intended for informational purposes only and should not be construed as medical advice, treatment, or diagnoses under any circumstances. Goodrxmedicine.com - India is an online Indian pharmacy dealing in Generic pharmaceutical products within the permissible extent of the law. Before self-medicating, consult a doctor if you have any doubts or questions related to your health. For any queries or concerns, write to us at
support@goodrxmedicine.com