Details
Medically Reviewed by
Dr. Akanksha Kaushal
Dr. Akanksha, Pharm-D
Dr. Akansha is a licensed Clinical Pharmacologist with extensive expertise in pharmacovigilance, prescription analysis, drug information, and safety. She's a dedicated educator and avid learner. Dr. Akansha also reviews medical content on GoodRx Medicine, ensuring accurate pharmaceutical information is accessible to all.
Written by
Julian Carter
Julian Carter
Julian, an MBA in Pharmaceutical Management, brings a dynamic blend of expertise and impact with his contributions at Goodrxmedicine. His dedication and innovative spirit continue to shape a brighter future in pharmaceutical management.
About Nizonide 500 Mg (Nitazoxanide)
Nizonide 500 Mg is a medicine you take while suffering from Diarrhea and  Parasitic infection. 
It comprises Nitazoxanide and is available extensively across all the leading pharmacies and medical stores. You can buy this medicine only with your doctor's prescription. 
When is Nizonide 500 Mg Used?
Nizonide 500 contains Nitazoxanide, which belongs to the class of drugs known as Thiazolides. Nitazoxanide is used in a broad-spectrum, antiprotozoal, primarily for treating diarrhea. 
Nitazoxanide is also effective in treating gastrointestinal parasite infections, including Giardia Lamblia and Cryptosporidium Parvum. 
How does it work?
Nitazoxanide is an antiparasitic medication. 
It inhibits the specific production of chemicals and substances like RNA and DNA viruses. These are essential for energy metabolism and the parasite's growth. 
This medication blocks certain chemicals and their pathways, through which the microbes sustain and multiply themselves. 
Directions to take medicine & its dose 
You can take Nizonide 500 Mg at a fixed time as your doctor prescribes. It is advised to swallow the tablet after your meal rather than crush and chew.  
Taking this medication for a longer period without consulting your doctor is not advisable.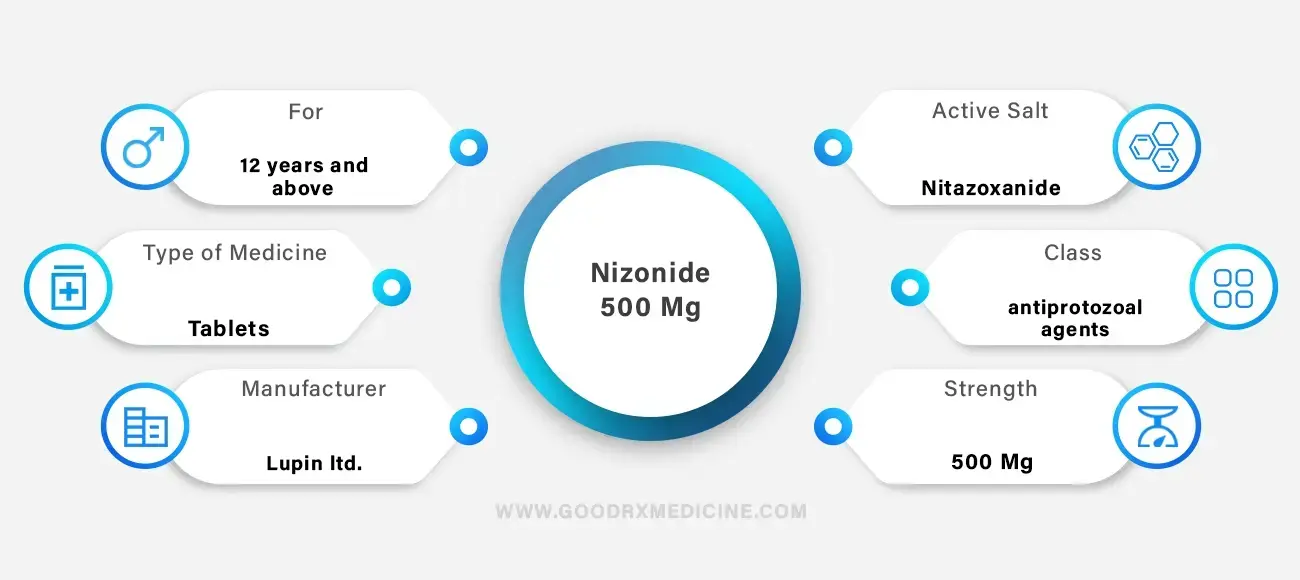 Who can use this medicine?
Any medication without consulting your doctor is never advised. 
Even though Nizonide 500 Mg is not so hard on your body, taking it without your doctor's prescription may result in side effects. 
Moreover, it is difficult to predict the exact symptoms that may occur after taking Nizonide 500 mg, because it depends on numerous factors. 
Side Effects
Despite all the beneficial things and good ingredients, Nizonide 500 mg has some negative aspects as well-
Headache
Nausea
Fever
Hair Loss
Vomiting
Abnormal liver function tests
Dizziness
Abdominal pain
Vertigo
Interactions
Prevention is always better than cure. So it's better to let your doctor know about any ongoing medicine you are taking while you are prescribed Nizonide 500 mg. It may show any adverse effects on your health. 
Drug-Drug Interaction: Nizonide 500 may interact with blood thinners (warfarin), medications used to treat fits (valproic acid), and anxiety-treating medications (lorazepam). 
Drug-Disease Interaction: Nizonide 500 should be administered cautiously when you have any disease related to kidney, diabetes, asthma, and a weak immune system.
Drug-Food Interaction: It is suggested to avoid the consumption of alcohol, as it may lead to dizziness. 
Precautions
This medicine is only for adults and not babies below the age of one. Furthermore, preventive advice is given to patients above 65 before taking this medicine, as it may cause breathing difficulty and swelling of the face and mouth. 
Women who are breastfeeding or pregnant should avoid taking this medicine. Moreover, hypersensitive people or people with immune system disorders should also avoid this medicine. 
Storage
You can store this medicine in a dark and dry place at room temperature. But don't forget to keep your tablets safe, so you don't damage them. 
FAQs
What can be the other alternatives for Nizonide?
This Nizonide has an active ingredient of 500 mg Nitazoxanide, which is also available with numerous strengths and substitutes. 
Some of them are Nizonide Oral Suspension and Nizonide 200 Mg Tablet DT. 
When should I take Nizonide?
Nitazoxanide is a tablet and a suspension (liquid) that can be taken orally. It is usually taken with food every 12 hours for three days. It is also suggested to take Nitazoxanide at around the exact times daily.
Is Nitazoxanide an antibiotic?
Yes, it is an antibiotic with microbiological characteristics. It is similar to Metronidazole but without an apparent resistance problem. This was clarified from a study that evaluated NTZ as a single agent in treating Helicobacter pylori infection.
Disclaimer:
GoodRxmedicine is entirely unrelated to GoodRx in any way or form. We hereby deny any sponsorship, endorsement, or affiliation between GoodRx.com USA and Goodrxmedicine.com India. GoodRxmedicine is an Indian online Pharmacy only dealing in selling generic medicines in compliance with the law to its full extent of the Republic of India.
The content on this page is intended for informational purposes only and should not be construed as medical advice, treatment, or diagnoses under any circumstances. Goodrxmedicine.com - India is an online Indian pharmacy dealing in Generic pharmaceutical products within the permissible extent of the law. Before self-medicating, consult a doctor if you have any doubts or questions related to your health. For any queries or concerns, write to us at
[email protected]