Ventorlin CFC Free Inhaler 100 mcg/18 mg
Details
Medically Reviewed by
Dr. Akanksha Kaushal
Dr. Akanksha, Pharm-D
Dr. Akansha is a licensed Clinical Pharmacologist with extensive expertise in pharmacovigilance, prescription analysis, drug information, and safety. She's a dedicated educator and avid learner. Dr. Akansha also reviews medical content on GoodRx Medicine, ensuring accurate pharmaceutical information is accessible to all.
Written by
Julian Carter
Julian Carter
Julian, an MBA in Pharmaceutical Management, brings a dynamic blend of expertise and impact with his contributions at Goodrxmedicine. His dedication and innovative spirit continue to shape a brighter future in pharmaceutical management.
What does Ventorlin CFC Free Inhaler 100mcg/18 mg mean? 
Ventorlin inhalers are rescue inhalers used to treat Asthma and Chronic Obstructive Pulmonary Disease(COPD). 
The Inhaler contains Salbutamol as its active ingredient. It eases the strain in the airway muscles and improves lung airflow.
GSK plc specializes in manufacturing the Ventorlin CFC Inhalers. 
Uses of Ventorlin Inhaler 
Ventorlin Inhaler belongs to a group of fast-acting Bronchodilators, also known as relievers. They are used in treating the following conditions,
Asthma
Bronchitis
Chronic Obstructive Pulmonary Disease
Constriction of airways 
Working of Ventorlin CFC Inhaler 100 mcg/18 mg 
Ventorlin CFC Free Inhaler consists of a significant amount of Salbutamol. 
Salbutamol acts to relax muscles in the airways and increases air influx to the lungs. 
Hence, helping the person with breathing difficulties to breathe easily.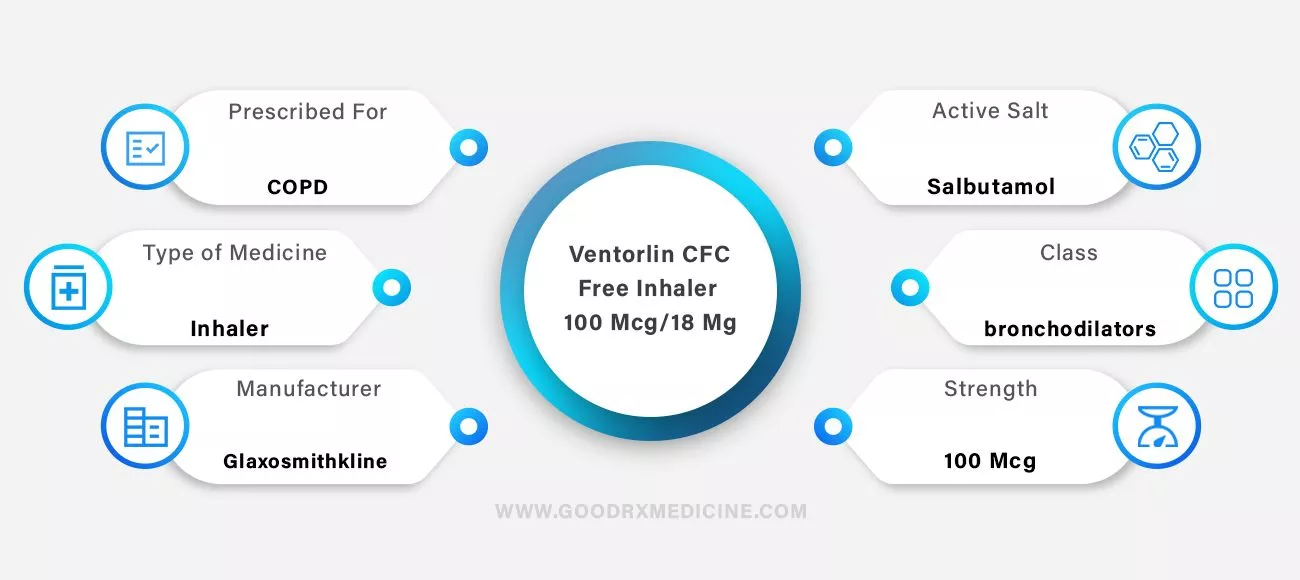 How to use Ventorlin Inhaler?
You may need to prime your Ventorlin inhaler before using it for the first time. The direction of priming is mentioned in your medicine. 
You may also need to shake your Ventorlin device just before each use.
The usual dose of Ventorlin inhalation is two inhalations every 4 to 6 hours. 
To prevent exercise-induced bronchospasm, use two inhalations 15 to 30 minutes before exercising. The effects of Ventorlin inhalation should last about 4 to 6 hours.
However, use inhalation precisely as prescribed by your doctor. Do not use the inhalation in larger or smaller amounts or longer than recommended.
Keeping your Inhaler clean is necessary. 
You should clean the plastic actuator with the canister removed at least once a week. Your medicine comes with directions for adequately cleaning your device.
Do not allow children to use Ventorlin inhalation without help from an adult.
Side effects
Ventorlin CFC Free Inhaler 100 mcg/18 mg consists of FDA-approved Salbutamol as its active ingredient. Hence, it is a trusted medication but sometimes might show some mild to moderate side effects, 
Shaking and trembling of arms and feet
Headache
Nausea
Coughing
Difficulty in breathing and sleeping
Swelling of face, tongue, lips, eyelids, hands, and feet
Agitation and anxiety
Muscle pain and cramps
Difficulty in passing the urine
Electrolyte Imbalance
Skin rashes and spotting   
Behavioral Changes
Increased Glucose Level in Blood
Interactions
Drug Interactions 
The medicine might interact with other drugs to show side effects. Please inform your doctor about the medication you take to avoid side effects. 
Atenolol and Propranolol
Ketoconazole
Drugs Used for Depression-like Amitriptyline
Furosemide
Mifepristone
Xylometazoline
Azithromycin
Hydrochlorothiazide   
Disease Interactions
Cardiovascular Disease
Hypokalemia  
Seizures
Kidney disease
Precautions
Keep out of reach and sight of the children
Wipe off the Inhaler's mouthpiece with a fiber-free tissue/cloth and put the cap on the Inhaler after every use.
Do not use the expired product; read the information carefully before using them.
Consult your medical professional for the medication's dose, time, and strength.
Storage
Store the Ventorlin CFC Free Inhaler at a cool temperature in a dark, clean, and dry place. Do not refrigerate the contents.
Frequently Asked Questions 
Is Ventorlin Inhaler safe for diabetic patients?
Your blood sugar levels could rise due to using Ventorlin Inhaler CFC Free. As a result, your doctor may change the dosage of your insulin or anti-diabetic medication. Don't forget to monitor your blood sugar levels and be on time for your appointments. 
If your blood sugar levels suddenly increase, go to your doctor.
What would happen if I took higher than the advised dose of Ventorlin Inhaler?
Ventorlin Inhaler CFC Free overdoses can result in seizures, chest pain, nervousness, headaches, dry mouth, nausea, dizziness, and a lack of energy. Hence, always follow your doctor's instructions for using the medicine. 
Is Salbumatol a steroid? 
No, Salbumatol is a beta-agonist. The medication affects your airways by docking at the beta-receptors there. You can breathe more quickly due to this relaxing the muscles in your airways.
Disclaimer:
GoodRxmedicine is entirely unrelated to GoodRx in any way or form. We hereby deny any sponsorship, endorsement, or affiliation between GoodRx.com USA and Goodrxmedicine.com India. GoodRxmedicine is an Indian online Pharmacy only dealing in selling generic medicines in compliance with the law to its full extent of the Republic of India.
The content on this page is intended for informational purposes only and should not be construed as medical advice, treatment, or diagnoses under any circumstances. Goodrxmedicine.com - India is an online Indian pharmacy dealing in Generic pharmaceutical products within the permissible extent of the law. Before self-medicating, consult a doctor if you have any doubts or questions related to your health. For any queries or concerns, write to us at
[email protected]