Details
Medically Reviewed by
Dr. Akanksha Kaushal
Dr. Akanksha, Pharm-D
Dr. Akansha is a licensed Clinical Pharmacologist with extensive expertise in pharmacovigilance, prescription analysis, drug information, and safety. She's a dedicated educator and avid learner. Dr. Akansha also reviews medical content on GoodRx Medicine, ensuring accurate pharmaceutical information is accessible to all.
Written by
Julian Carter
Julian Carter
Julian, an MBA in Pharmaceutical Management, brings a dynamic blend of expertise and impact with his contributions at Goodrxmedicine. His dedication and innovative spirit continue to shape a brighter future in pharmaceutical management.
What is Krrista Power?
Vardenafil and Dapoxetine are the two main ingredients in Krrista Power.
Vardenafil, a Phosphodiesterase type 5 (PDE5) inhibitor, helps treat Erectile Dysfunction (ED).
The other ingredient in the medicine, Dapoxetine, is used to treat Premature Ejaculation (PE).
The drug does not treat sexually transmitted infections (STDs), and it is always a good idea to use protection before engaging in sexual activity.
Krrista is also available in other strengths, such as Krrista Strong 20+60 Mg.
Uses 
Krrista Power is prescribed for treating Erectile Dysfunction (ED) and Premature Ejaculation (PE) in men.
ED, also known as Impotence, makes it difficult to get or maintain an erection during sexual intercourse.
Men who suffer from PE  ejaculate before they intend while engaging in sexual activity.
How to take Krrista?
Krrista Power tablets contain two prescription drugs, Vardenafil and Dapoxetine.
It is important to check with a medical professional before taking this medicine.
Do keep in mind the following points while undergoing treatment:
Take the tablet 1-3 hours before any sexual activity
Swallow the whole tablet. Do not break, chew or crush it.
You can take medicine on an empty stomach
Avoid taking more than one dose within 24 hours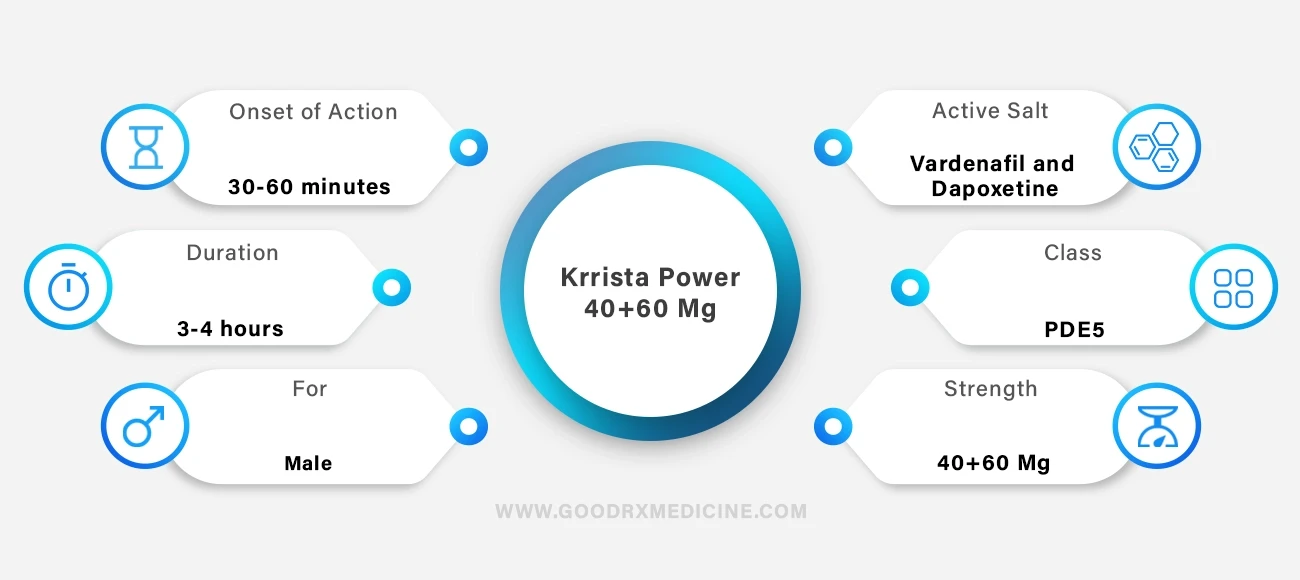 How does Krrista Power work?
Vardenafil and  Dapoxetine are the two main ingredients in the medication.
Krrista Power pills contain 40 mg of Vardenafil and 60 mg of Dapoxetine. 
Vardenafil belongs to a PDE5 inhibitor class of drugs. It eases the blood vessels of the penis leading to sufficient blood flow and stimulating erection during sexual activity.
Dapoxetine, the other ingredient, is a selective serotonin reuptake inhibitor (SSRI). It helps increase serotonin levels which result in prolonged ejaculation time.
Dosage
Vardenafil and Dapoxetine pills should be consumed as recommended by your doctor. Don't take more than one dose within 24 hours.
Overdose
Symptoms of overdose include dizziness, fainting, or painful/prolonged erection. If you face any of these, seek medical assistance immediately.
Things to remember
Inform your doctor about any health conditions before starting the treatment.
Avoid consumption of alcohol as it can lower the effects of the drug
This medication may cause dizziness and drowsiness, so avoid driving or using machinery after consumption
This medicine is not recommended for women
Keep out of the reach of children
Side effects 
This medicine for ED may cause some minor side effects like:
Dizziness
Diarrhea
Dry mouth
Gastrointestinal upset nausea
Abdominal discomfort
Headache
Interactions
Drug Interactions
PDE5 inhibitors
Arginine
Erythromycin
Fluconazole
Ketoconazole
Lithium
Salts of Sulphates
Salts of Nitrates
Tramadol
Warfarin
Ritonavir
Disease Interactions
Do not take this medication if you are suffering from any of the following conditions:
Kidney diseases
Heart diseases
Glaucoma
Moderate to severe liver impairment
Long QT syndrome
Bleeding disorders
Storage
Store the drug below 30°C. Keep it away from sunlight and moisture.
Frequently Asked Questions
What is Krrista Power?
Krrista Power is a drug used in treating ED. It is a combination of 40 mg of Vardenafil, a PDE5 inhibitor, and 60mg of Dapoxetine.
What is Krrista Power used for?
This drug is a Vardenafil+Dapoxetine composition used in treating Erectile Dysfunction and Premature Ejaculation.
How long does Krrista Power take to work?
The medicine starts acting within 30-60 minutes. The effect may last for 3 to 4 hours.
Can I use this medicine if I am a woman?
This medicine is not recommended for women. Please consult your doctor for an alternative.
How much Krrista Power should I take?
Krrista Power should be taken as per your doctor's recommendation. Do not self-medicate.
What are Vardenafil + Dapoxetine tablets?
Vardenafil + Dapoxetine is a combination of two drugs widely used to treat Premature Ejaculation and Erectile Dysfunction, also known as Impotence.
Disclaimer:
GoodRxmedicine is entirely unrelated to GoodRx in any way or form. We hereby deny any sponsorship, endorsement, or affiliation between GoodRx.com USA and Goodrxmedicine.com India. GoodRxmedicine is an Indian online Pharmacy only dealing in selling generic medicines in compliance with the law to its full extent of the Republic of India.
The content on this page is intended for informational purposes only and should not be construed as medical advice, treatment, or diagnoses under any circumstances. Goodrxmedicine.com - India is an online Indian pharmacy dealing in Generic pharmaceutical products within the permissible extent of the law. Before self-medicating, consult a doctor if you have any doubts or questions related to your health. For any queries or concerns, write to us at
support@goodrxmedicine.com