Details
Medically Reviewed by
Dr. Akanksha Kaushal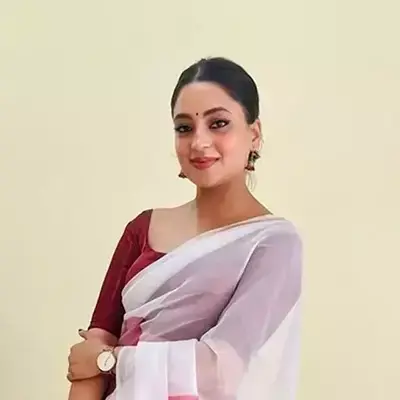 Dr. Akanksha, Pharm-D
Dr. Akansha is a licensed Clinical Pharmacologist with extensive expertise in pharmacovigilance, prescription analysis, drug information, and safety. She's a dedicated educator and avid learner. Dr. Akansha also reviews medical content on GoodRx Medicine, ensuring accurate pharmaceutical information is accessible to all.
Written by
Julian Carter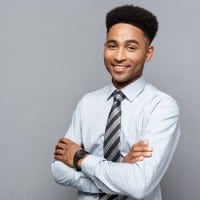 Julian Carter
Julian, an MBA in Pharmaceutical Management, brings a dynamic blend of expertise and impact with his contributions at Goodrxmedicine. His dedication and innovative spirit continue to shape a brighter future in pharmaceutical management.
What is Ciplactin 4 mg?
Ciplactin 4 is a first-generation Antihistamine used in treating allergic reactions, migraine, cluster headaches, and other conditions.
Cyproheptadine, the main ingredient in the medicine, is used to treat several diseases such as Allergic Rhinitis, Anorexia Nervosa, and Urticaria.
Ciplactin 4mg tablet reduces the effect of histamines in the body.
Uses of Ciplactin 4
Doctors recommend Ciplactin's 4 mg for the treatment of conditions like:
Allergic Rhinitis: Also known as Hay fever, in this condition, your nose gets irritated by allergens like pollen.
Urticaria: In this condition, a skin rash caused by irritants such as food, medicine, etc.
Anorexia Nervosa: This condition is an eating disorder and psychological illness making you obsess with body weight.
This medicine is also prescribed to treat Cluster headaches, Migraine, and Pruritus.
How does Ciplactin 4 mg work?
Cyproheptadine, the main ingredient of the drug, is an antihistamine medicine.
Histamines are nitrogenous compounds involved in the body's immune response and physiological functions.
The medicine blocks the action of histamines, responsible for causing allergic symptoms.
How to take Ciplactin 4mg?
The tablets should be taken at a fixed time as per your doctor's recommendation
Take medicine orally with a glass of water
Do not crush or chew the medicine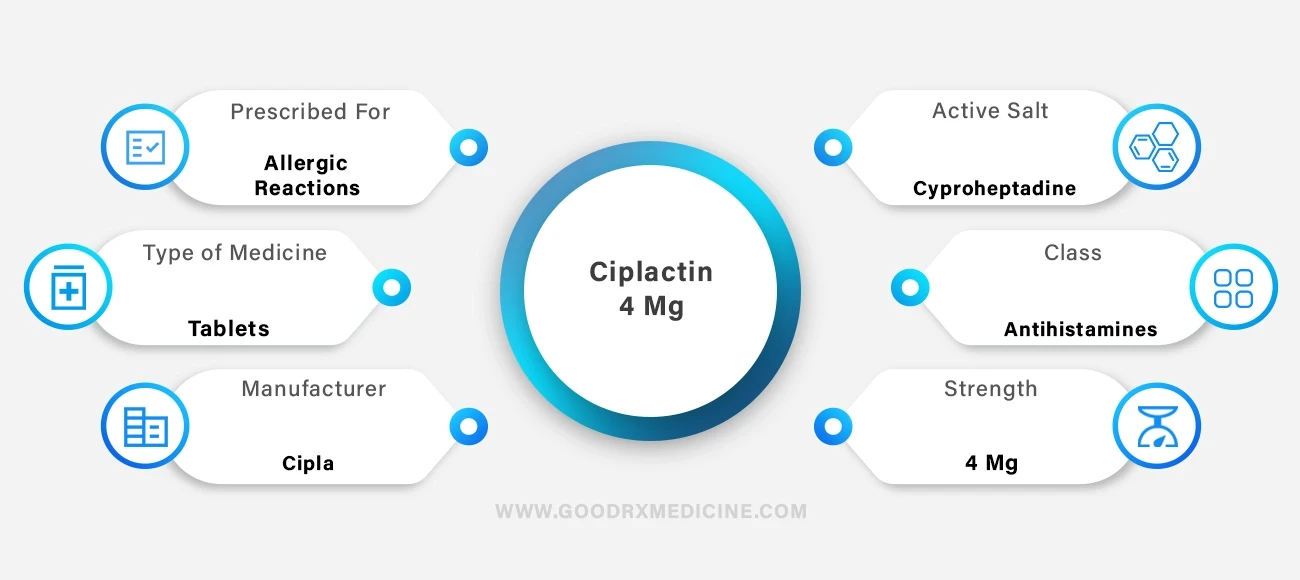 Dosage 
Missed Dose
Take 4 mg Ciplactin tablets as soon as you remember. If it's time for the next dose, you can skip it. Do not double it to make up for the missed dose.
Overdose
This is a prescription medicine to be taken as per your doctor's instructions. Seek emergency medical help if you overdose. 
Things to Remember
Do not consume Ciplactin 4 Mg if you are allergic to any ingredient
Before taking these tablets, inform your physician if you are breastfeeding, pregnant, or trying to conceive
Do not drink carbonated beverages with this medicine
Avoid alcohol with this medication as it may increase the risk of side effects
Keep Ciplactin out of the reach of children
Interactions
Drug Interactions
You must inform your physician if you take herbal supplements or other drugs.
This medicine for treating allergic symptoms might interact with the below-mentioned medicines:
Zonisamide
Sodium oxybate
Amoxapine
Aripiprazole
Propoxyphene
Topiramate
Disease Interactions
You should keep away from this medication if you are suffering from the following conditions:
Narrow-Angle Glaucoma
Stomach Ulcer
Enlarged Prostate
Asthma
Side effects
4 mg tablets of Ciplactin may have some common side effects such as:
Nausea
Weakness
Dizziness
Vomiting
Headache
Low blood pressure
Storage
Keep the medicine at room temperature below 30℃. Prevent exposure to direct sunlight and moisture.
FAQ
What is Ciplactin 4 mg?
Ciplactin is an antihistamine medicine. The drug treats allergy symptoms such as watery eyes, runny nose, itching, and sneezing.
What is Ciplactin 4 Mg used for?
This medicine treats allergic symptoms like itching, sneezing, etc. It is also used to treat Anorexia Nervosa, Allergic Rhinitis, and Urticaria.
Can I use Ciplactin to gain weight?
Ciplactin Tablet makes a person constantly need more energy, which makes them hungry. This medicine is not a safe way to gain weight.
Can I use this medicine if I am pregnant?
These tablets are not recommended for pregnant women unless necessary. Please check with your doctor before taking this medicine.
Can I use this medicine if I am breastfeeding?
This medicine is not suitable for breastfeeding women unless necessary. It would be best to consult your doctor for an alternative.
Disclaimer:
GoodRxmedicine is entirely unrelated to GoodRx in any way or form. We hereby deny any sponsorship, endorsement, or affiliation between GoodRx.com USA and Goodrxmedicine.com India. GoodRxmedicine is an Indian online Pharmacy only dealing in selling generic medicines in compliance with the law to its full extent of the Republic of India.
The content on this page is intended for informational purposes only and should not be construed as medical advice, treatment, or diagnoses under any circumstances. Goodrxmedicine.com - India is an online Indian pharmacy dealing in Generic pharmaceutical products within the permissible extent of the law. Before self-medicating, consult a doctor if you have any doubts or questions related to your health. For any queries or concerns, write to us at
[email protected]