Details
Medically Reviewed by
Dr. Akanksha Kaushal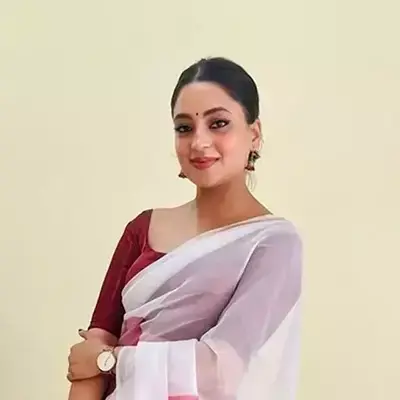 Dr. Akanksha, Pharm-D
Dr. Akansha is a licensed Clinical Pharmacologist with extensive expertise in pharmacovigilance, prescription analysis, drug information, and safety. She's a dedicated educator and avid learner. Dr. Akansha also reviews medical content on GoodRx Medicine, ensuring accurate pharmaceutical information is accessible to all.
Written by
Julian Carter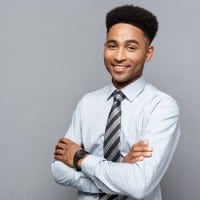 Julian Carter
Julian, an MBA in Pharmaceutical Management, brings a dynamic blend of expertise and impact with his contributions at Goodrxmedicine. His dedication and innovative spirit continue to shape a brighter future in pharmaceutical management.
About Ceebis 20 mg
Ceebis 20 mg is used to treat Erectile Dysfunction (ED) in men.
Tadalafil is an active salt ingredient present in this pill.
Cooper Pharma manufactures Ceebis 20 mg.
Uses of Ceebis 20 mg
Ceebis 20 mg is used to treat impotence or ED in men.
20 mg Ceebis helps relax the blood vessels, further providing an erection.
The active salt, Tadalafil  in this pill is also known to treat Pulmonary Arterial Hypertension.
How does Ceebis 20 mg work?
Ceebis 20 mg is a PDE5 (phosphodiesterase type 5) inhibitor.
The presence of Tadalafil salt in this pill helps in relaxing the muscle in the penile region.
This further provides the blood vessels to relax in the male sex organ and produce an erection.
Ceebis 20 mg is hence used to treat ED in men.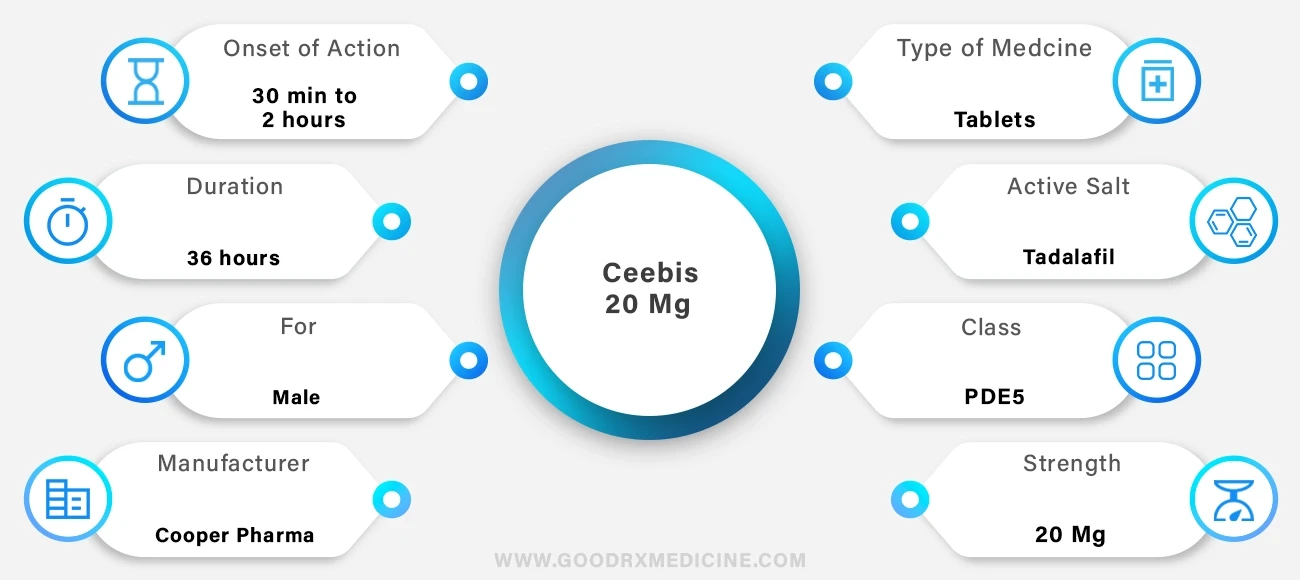 Dosage
Ceebis 20 mg is a prescription-based medicine.
You should consume this medicine 30 to 60 minutes before sexual activity.
You can swallow a whole tablet of 20 mg Ceebis with a glassful of water with or without a meal.
You should not take this medicine more or less than what is recommended.
Side effects of 20 mg Ceebis
Ceebis 20 mg might have some common side effects, which are as follows:
Nausea
Cough
Indigestion
Flushing
Headache
Interactions
Drug Interaction
Tadalafil, the active salt in Ceebis 20 mg, might react with some drugs and cause harsh effects.
Therefore, it is recommended that you should not consume Ceebis 20 mg with the following:
Nitrates
Alpha-blockers like Doxazosin and Alfuzosin
Amlodipine
Oral antifungal medicines like, Ketoconazole
Anticoagulants like Warfarin
Disease Interaction
Do not consume Ceebis 20 mg if you are suffering from any of the following diseases.
Cardiovascular disease
Kidney disease
Disease of Retina
Lung disease
Food Interaction
You should abstain from consuming Ceebis 20 mg with some food items like alcohol and grapefruit as it causes harmful impacts on your health.
Precautions
You should keep this medicine away from children and pets.
Do not get involved in activities which require your attention like driving or heavy machine operations as this medicine can cause dizziness.
Storage
Ceebis 20 mg should be stored in a cool and dry space.
Frequently Asked Questions
How long does the effect of Ceebis 20 mg last?
You should consume Ceebis 20 mg 30 to 60 minutes before the sexual activity.
The effect of 20 mg Ceebis usually lasts for around four hours.
However, Tadalafil remains present in the body for up to 36 hours.
Can we split Ceebis 20 mg and then consume it?
No, Ceebis 20 mg should not be broken or chewed.
It should be swallowed as a whole with a glassful of water.
You can have it with or without a meal.
Can Ceebis 20 mg be used for premature ejaculation?
20 mg Ceebis is used only to treat ED or impotence in men.
You cannot use it for premature ejaculation.
Disclaimer:
GoodRxmedicine is entirely unrelated to GoodRx in any way or form. We hereby deny any sponsorship, endorsement, or affiliation between GoodRx.com USA and Goodrxmedicine.com India. GoodRxmedicine is an Indian online Pharmacy only dealing in selling generic medicines in compliance with the law to its full extent of the Republic of India.
The content on this page is intended for informational purposes only and should not be construed as medical advice, treatment, or diagnoses under any circumstances. Goodrxmedicine.com - India is an online Indian pharmacy dealing in Generic pharmaceutical products within the permissible extent of the law. Before self-medicating, consult a doctor if you have any doubts or questions related to your health. For any queries or concerns, write to us at
[email protected]