"Omicron has been designated as a Variant of Concern," Says the World Health Organization.
As we enter the third year of the pandemic, it is a cause of concern for everyone. The pandemic is still up and running; millions of people are getting infected every day.
SARS- CoV2 virus has mutated multiple times since the year 2019, and it has become even more difficult to manage the pandemic. On November 11th 2021, a new strain of the covid-19 virus was detected in Botswana, South Africa.
Following that on 24th November 2021, the World Health Organization declared the presence of a new covid variant and termed it "Omicron". Though currently, the Delta Variant of coronavirus is dominant worldwide, there has been an increase in Omicron variant linked cases as well.
Multiple research is currently being conducted worldwide to know more about the new Omicron variant.
However, it is estimated that the new variant can have a higher transmissibility rate and be more contagious than the previous variants.
Therefore, medical professionals have been urging people around the world to religiously follow all covid-19 protocols and maintain adequate social distance so that the new Omicron variant does not spread.
What Are The Symptoms Of The Omicron Variant Of COVID-19?
The Omicron variant has spread to more than a hundred countries, highly contagious. The latest surge of coronavirus cases in the United States is also due to this new variant.
Medical researchers are not entirely sure about its possible effects on humans. However, some symptoms have emerged to be common in all Omicron variant linked cases. Some of those Omicron variant symptoms are as follows.
Cough
Sneezing
Sore throat
Body pain
Fatigue (mild or severe)
Congestion and runny nose
Headaches
The classic three symptoms, i.e. fever, cough, and loss of smell and taste, are slightly less common in this new Omicron variant than in the original SARS- CoV2 virus.
However, medical researchers continuously say that it is too early and difficult to differentiate between different variants.
Suppose you are experiencing any of such symptoms and have recently contacted someone who tested positive for the coronavirus disease. In that case, it is crucial to get tested as soon as possible.
It can be difficult to treat asymptomatic cases of the Omicron variant in which the infection will show little or no symptoms of the illness. The pandemic will end only when we together take the responsibility to be more health-conscious by adopting all the necessary covid-19 precautions and protocols.
Also Read: Must-have Classroom Precautions For COVID-19
How To Protect Yourself Against The New Omicron Variant?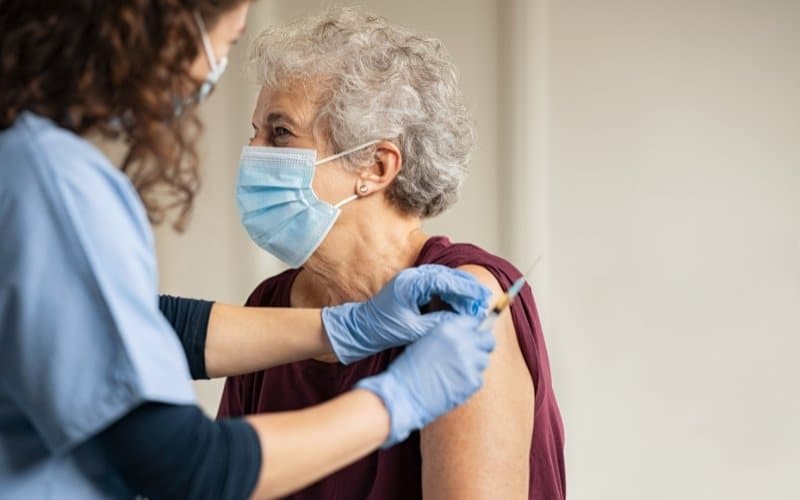 The new Omicron variant has to be dealt with the same way as the previous variants. The newly mutated virus is more prone to be transmitted, and everyone needs to be cautious.
Some of the common ways to protect yourself against the virus are as follows.
Getting vaccinated is considered the best line of defence against the virus. Healthcare workers and people who are more prone to the virus can even take a booster dose.
Maintaining social distance as much as possible, always try to keep a distance of a minimum of five to six feet from others.
Wearing a face mask, and covering your nose properly is crucial. Clean your hands while putting and removing the mask.
Wash your hands or sanitiser at regular intervals throughout the day.
Get tested if you start experiencing any of the symptoms of the coronavirus disease; consult your general physician beforehand.
Try to be in well-ventilated spaces over closed ones.
Avoid going to large gatherings or crowded places.
Avoid touching surfaces, especially in public settings or health facilities.
Always try to cover your nose and mouth while sneezing or coughing.
Form a habit of cleaning and sanitizing the surrounding areas like tables, doorknobs, light switches, countertops, handles, desks, phones and keyboards.
Monitor your health by looking out for Omicron variant symptoms like cough, sore throat, fatigue, congestion and runny nose. Try keeping a check on oxygen levels as well.
Is The Omicron Variant Of COVID-19 More Contagious Than Delta?
This is one of those questions that is puzzling everyone's mind at the moment. It should be known that it is not possible to state hard facts about the comparison due to a lack of information.
However, according to the research undertaken by the World Health Organization, it is estimated that the new Omicron is considered to be not as severe as the previous variants, and less hospitalization might be needed.
Though there are higher chances of transmissibility due to the heavy viral load of the variant, people who have been infected before and have taken the vaccine are in the lower risk bracket for the new variant.
But it is still unclear how the Omicron variant will transmit through people who are partially vaccinated, fully vaccinated and unvaccinated populations to determine whether the variant's mutation permits Omicron to elude the immune system or not.
However, the healthcare system can take a massive hit if the cases rise rapidly.
In addition, countries with poor healthcare infrastructure and low vaccination rates can face extreme difficulty in managing the surge if proper precautions are not taken in time.
BOTTOM LINE:
The pandemic is full of uncertainties, and medical experts don't yet know how these new coronavirus strains would affect us and what possible long term side effects would be.
So the best possible thing that we all can do is to stay at home and break the chain of transmissibility by getting vaccinated and maintaining adequate social distance from other people.
SOURCES: