Asthalin HFA Inhaler 100 mcg
Details
Medically Reviewed by
Dr. Akanksha Kaushal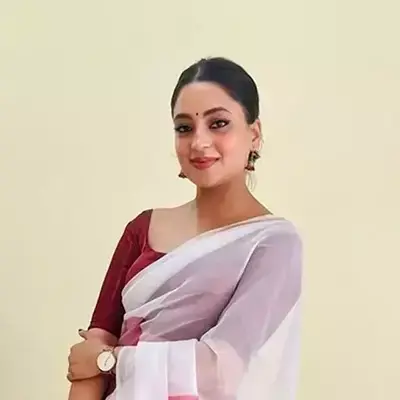 Dr. Akanksha, Pharm-D
Dr. Akansha is a licensed Clinical Pharmacologist with extensive expertise in pharmacovigilance, prescription analysis, drug information, and safety. She's a dedicated educator and avid learner. Dr. Akansha also reviews medical content on GoodRx Medicine, ensuring accurate pharmaceutical information is accessible to all.
Written by
Julian Carter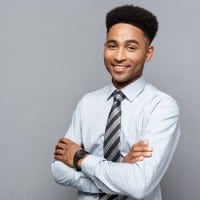 Julian Carter
Julian, an MBA in Pharmaceutical Management, brings a dynamic blend of expertise and impact with his contributions at Goodrxmedicine. His dedication and innovative spirit continue to shape a brighter future in pharmaceutical management.
Certain medical conditions like Asthma and Chronic Obstructive Pulmonary Disease (COPD) make breathing difficult, hindering the quality of life. 
Get relief from shortness of breath, chest tightness, and other symptoms of the conditions mentioned above with the help of Asthalin.
What is Asthalin HFA Inhaler 100 Mcg?
Asthalin HFA belongs to a class of medicines called 'bronchodilators.' 
Salbutamol, the main ingredient in the drug, helps treat the symptoms of asthma and COPD.
Asthalin Inhaler, also called a 'reliever' inhaler, helps relieve the symptoms of bronchospasm such as wheezing, tightness in the chest area, shortness of breath, and coughing. 
The medicine acts by relaxing respiratory muscles and expanding the lungs' airways.
Uses of Asthalin HFA
Asthma is a chronic illness that narrows down the airways. Asthalin HFA Inhaler 100 Mcg is used in the treatment of asthma.
Asthalin helps treat the following health conditions as well:
Chronic Obstructive Pulmonary Disease
Bronchitis
How does the Asthalin Inhaler work?
Salbutamol, the main ingredient, is a bronchodilator that relaxes the muscles of your airways.
This drug acts on the beta2-adrenoceptors of bronchial smooth muscle, causing bronchodilation lasting for 4-6 hours. It works quickly in people with reversible airway obstruction.
Asthalin gives you relief from chest tightness and shortness of breath.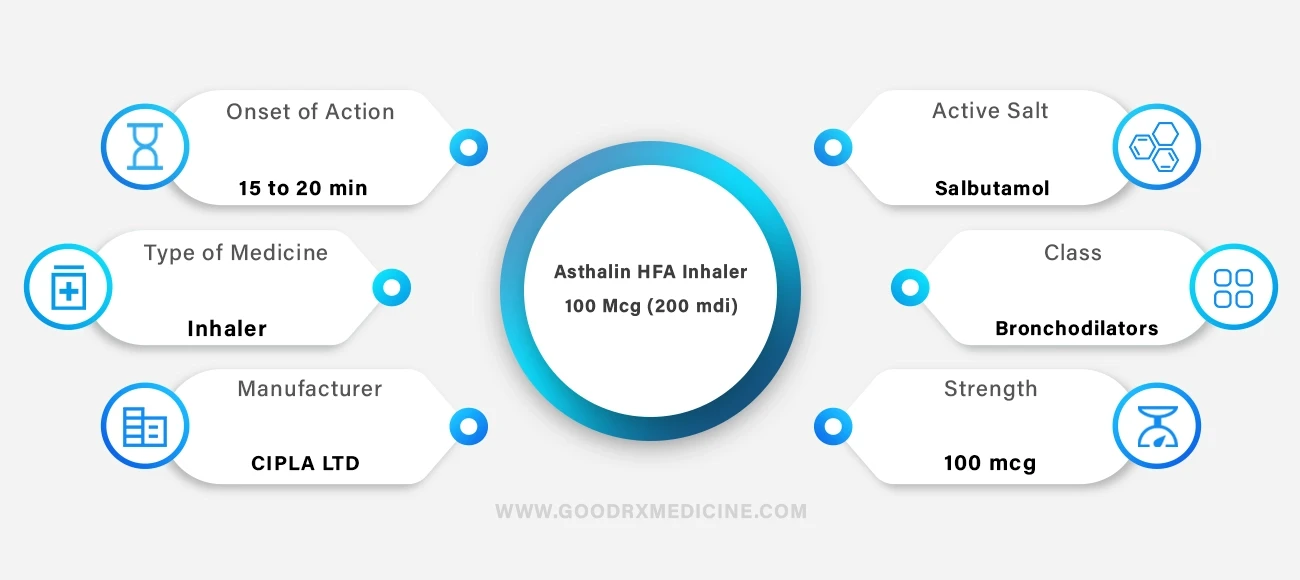 What are the available forms of Salbutamol?
Asthalin Inhaler, manufactured by Cipla Ltd., contains an active ingredient, Salbutamol 100 mcg, available in various strengths and substitutes at all the leading pharmacies, drugstores, and medical supply stores. 
Salbutamol is available on our online medical store in the following forms:
Theo Asthalin 2+100 Mcg
Asthalin Rotacaps 200 Mcg
Theo Asthalin Forte 4 Mg+200 Mg
New Asthalin Expectorant
Directions for Use:
Shake the Inhaler properly before use
To release the medicine, press down on the Inhaler
Breathe in from the mouth, and hold your breath for 10 seconds
Repeat inhaling until you have inhaled the number of puffs suggested by your doctor
Rinse your mouth with water
Note: This medicine should only be taken in inhaler doses as your doctor recommends.
Drugs that interact with this medicine
You should always consult your doctor if you take vitamins, herbal supplements, or other drugs.
The following drugs may interact with Asthalin HFA Inhaler 100 Mcg (200 mdi):
Abacavir
Acebutolol
Aceclofenac
Acematicin
Acetaminophen
Acetazolamide
Acetylsalicylic acid
Aclidinium
Acrivastine
Acyclovir
When to avoid Asthalin Inhaler?
Avoid using Asthalin if you are allergic or hypersensitive to the inhaler. This drug is not recommended for pregnant, conceiving, or breastfeeding women.
You should not use Asthalin HFA if you are suffering from the following conditions:
Hypertension
Overactive thyroid gland
Low potassium levels
Hypokalemia as it also decreases the potassium levels
What are the side effects?
Asthalin may have some common side effects, such as: 
Sleeplessness
Sinus or throat irritation
Headache
Nausea
Tremors, especially in hands
Electrolyte imbalance
Increased blood pressure
Behavioral changes
The increased glucose level in the blood
Cataract
Dosage
You should take Asthalin HFA Inhaler 100 Mcg as advised by the doctor. 
Adults and children are advised to take this medicine at a fixed time per their doctor's advice.
NOTE: Do not use the medicine more than the prescribed dosage.
Missed Dose
If you have missed a dose of Asthalin, take it as soon as you remember. Skip the dose if it is time for your next dose.
Overdose
It is important to take this medicine as per your doctor's recommendation. In case of an overdose, seek medical assistance immediately.
Things to Remember
Keep it out of the reach of children
Regularly wipe the mouthpiece of the Inhaler with a fiber-free tissue/cloth]
Always put the cap on the inhaler after use
Check to see whether you are allergic to Salbutamol
You should avoid taking alcohol and other drugs
Avoid taking other medications along with Asthalin HFA Inhaler 100 Mcg, as it can trigger a drug reaction
Consult your doctor before taking  this medicine
Storage
Make sure you keep the medication tightly closed and out of the reach of children. Store Asthalin HFA Inhaler 100 Mcg at a cool temperature in a dark and dry place. Do not refrigerate.
FAQ
What is Asthalin HFA used for?
Asthalin HFA Inhaler 100 Mcg (200 mdi) is used in treating Asthma and Chronic Obstructive Pulmonary Disease (COPD).
How long should I continue using Asthalin Inhaler?
The usage of the inhaler depends upon the severity of the condition. Use it according to the dosage and duration as prescribed by your doctor. 
Can I use Asthalin HFA Inhaler 100 Mcg if I have Covid?
Yes, it is safe to use if you have COVID-19. However, the medicine's dosage and administration may differ depending on your prevailing conditions. Please consult your doctor before using it.
Can I use this medicine if I am pregnant?
This medicine is not recommended for pregnant women. Please check with your doctor for an alternative.
Can I use this medicine if I am breastfeeding?
Asthalin is not suitable for breastfeeding women. It would be best to consult your doctor.
Disclaimer:
GoodRxmedicine is entirely unrelated to GoodRx in any way or form. We hereby deny any sponsorship, endorsement, or affiliation between GoodRx.com USA and Goodrxmedicine.com India. GoodRxmedicine is an Indian online Pharmacy only dealing in selling generic medicines in compliance with the law to its full extent of the Republic of India.
The content on this page is intended for informational purposes only and should not be construed as medical advice, treatment, or diagnoses under any circumstances. Goodrxmedicine.com - India is an online Indian pharmacy dealing in Generic pharmaceutical products within the permissible extent of the law. Before self-medicating, consult a doctor if you have any doubts or questions related to your health. For any queries or concerns, write to us at
[email protected]