Details
Medically Reviewed by
Dr. Akanksha Kaushal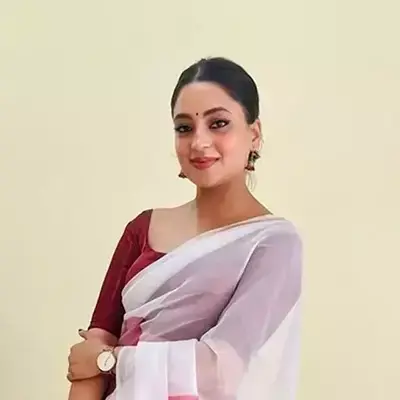 Dr. Akanksha, Pharm-D
Dr. Akansha is a licensed Clinical Pharmacologist with extensive expertise in pharmacovigilance, prescription analysis, drug information, and safety. She's a dedicated educator and avid learner. Dr. Akansha also reviews medical content on GoodRx Medicine, ensuring accurate pharmaceutical information is accessible to all.
Written by
Julian Carter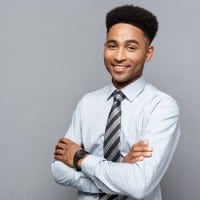 Julian Carter
Julian, an MBA in Pharmaceutical Management, brings a dynamic blend of expertise and impact with his contributions at Goodrxmedicine. His dedication and innovative spirit continue to shape a brighter future in pharmaceutical management.
Testosterone hormone plays a significant role in the development of male bodies. 
Lack of the hormone can affect the growth and cause male Hypogonadism, leading to various other problems.
Cernos gel helps improve Testosterone levels.
What is Cernos Gel 1%?
Cernos Gel is a medicated gel used to treat low Testosterone levels in men, which can cause male Hypogonadism. 
It is only given to men who have known health problems. It helps get the level of Testosterone back up in men's bodies.
Sun pharmaceuticals manufacture it.
Cernos Gel Uses 
It is prescribed for the treatment of Male Hypogonadism.
Testosterone is the sex hormone in men, a lack of which can lead to low libido or sex drive. 
Ultimately untreated male Hypogonadism can lead to Erectile Dysfunction, infertility and decrease facial and body hair in men.
Cernos Gel 1% can fulfil the need for Testosterone in our body.
How to use Cernos Gel 1%?
Your doctor will let you know where to use the medicine as it is directly applied to the skin. 
Please follow the instructions of your doctor, do not start or stop using the gel on your own. You can also check the label before using it. 
Usually, you should clean and dry the area and then put the gel on it. 
You can apply the gel to your upper arms, shoulders and abdomen.
Do not apply this gel on your genitals, chest or back. Always stick to the application sites recommended by your doctor. 
Always work in thin layers as any excessive product can take too long to dry and cause irritation. 
After the medicine has dried, you can cover the application site with your regular clothes. Cernos will not make them greasy.
Always wash your hands after the application. Try not to apply this gel when going to the beach or swimming.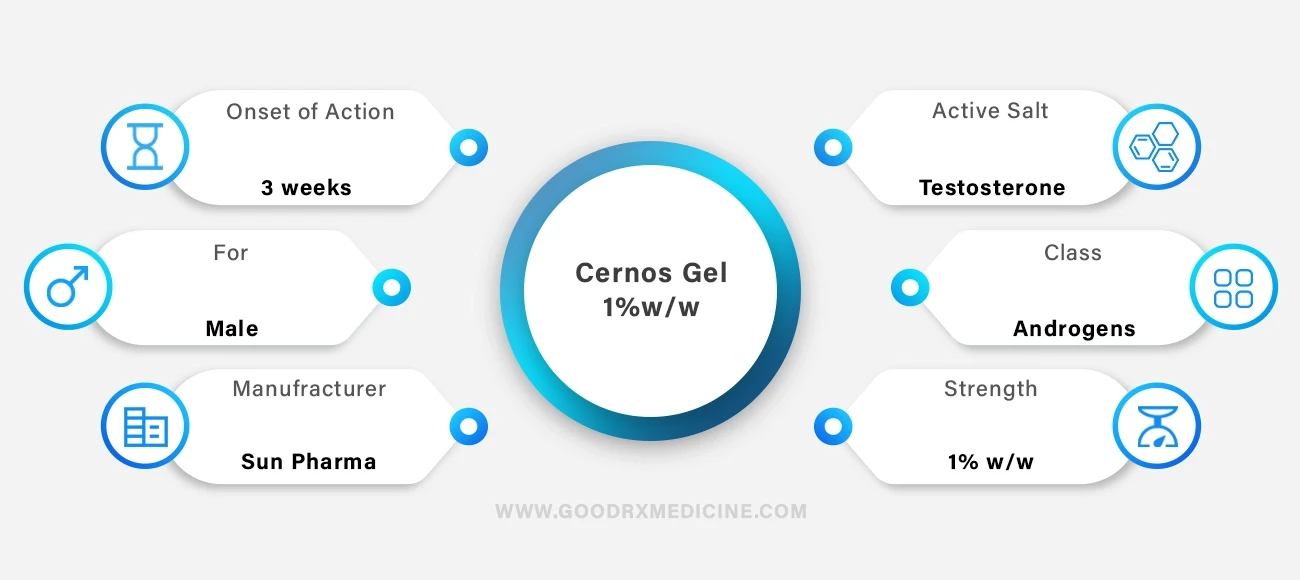 How does Cernos Gel 1% work?
As previously mentioned, Cernos gel is like the male sexual hormone - Testosterone. 
Testosterone is present as the main active ingredient in 10 mg strength.
It works by giving adult men their healthy Testosterone levels back. 
Lack of Testosterone can lead to several health issues, such as impotence, infertility, low sex drive, fatigue, depression, and bone loss.
Application of Cernos gel as prescribed by the doctor can help treat all these conditions.
Cernos gel side effects
Some minor side effects from Cernos gel are as follows:
Acne 
Hair loss.
Weight gain
Headache 
Elevated cholesterol levels
Pain at the site of injection
Dry mouth or change in taste
Interactions
Drug Interactions
You must share your medical history and current medicine intake with your doctor before using Cernos gel. 
Drugs such as
Anticoagulants ( blood thinners)
Corticosteroids
Have shown interaction with the active ingredient present in Cernos.
Disease Interactions
No disease interactions have been observed with Testosterone. However, always let your doctor know your medical history in advance. 
Food interactions
No food interactions are noted with Cernos gel; however, we advise you to take:
Foods rich in Testosterone such as tuna, egg yolk and beans.
Beans, grains, and other foods rich in zinc.
Maintaining a healthy lifestyle, sleep cycle, diet and exercising regularly will help you keep healthy Testosterone levels. 
Precautions
Cernos gel does not affect your driving abilities; however, be careful while driving if you are experiencing any side effects.
This gel can be used by women only when prescribed by a doctor. 
A pregnant woman should strongly avoid using Cernos as it can cause complications in pregnancy.
Storage
Always store Cernos gel in a cool and dry place. 
Always keep Cernos and other medications away from the reach of children.
General Frequently Asked Questions
What is the use of Cernos gel?
Cernos Gel is a prescribed gel that is used to treat low testosterone levels in men, which can cause Hypogonadism. 
What does Testosterone gel such as Cernos do?
It helps get the level of Testosterone back up in men's bodies.
Can females use Cernos gel? 
Testosterone hormone is present in the female body in small amounts. 
In rare cases such as breast cancer and IVF treatment, Testosterone gel such as Cernos can be prescribed.
Make sure you as a woman do not use this gel without proper authorisation from a medical practitioner.
What are the other strengths and dosages of Cernos?
It is available in the form of gel and gelatine capsules. The name of different dosages are:
The gel variant has 10 mg of Testosterone, whereas the capsules have 40 mg strength.
Where do you put Testosterone gel?
As previously mentioned, Testosterone gel should only be used on the upper arms, abdomen, and shoulder. 
Do not apply in other areas unless or until advised by your doctor.
Disclaimer:
GoodRxmedicine is entirely unrelated to GoodRx in any way or form. We hereby deny any sponsorship, endorsement, or affiliation between GoodRx.com USA and Goodrxmedicine.com India. GoodRxmedicine is an Indian online Pharmacy only dealing in selling generic medicines in compliance with the law to its full extent of the Republic of India.
The content on this page is intended for informational purposes only and should not be construed as medical advice, treatment, or diagnoses under any circumstances. Goodrxmedicine.com - India is an online Indian pharmacy dealing in Generic pharmaceutical products within the permissible extent of the law. Before self-medicating, consult a doctor if you have any doubts or questions related to your health. For any queries or concerns, write to us at
[email protected]