Aerocort Rotacaps 100 mcg + 100 mcg
Details
Medically Reviewed by
Dr. Akanksha Kaushal
Dr. Akanksha, Pharm-D
Dr. Akansha is a licensed Clinical Pharmacologist with extensive expertise in pharmacovigilance, prescription analysis, drug information, and safety. She's a dedicated educator and avid learner. Dr. Akansha also reviews medical content on GoodRx Medicine, ensuring accurate pharmaceutical information is accessible to all.
Written by
Julian Carter
Julian Carter
Julian, an MBA in Pharmaceutical Management, brings a dynamic blend of expertise and impact with his contributions at Goodrxmedicine. His dedication and innovative spirit continue to shape a brighter future in pharmaceutical management.
What is Aerocort Rotacaps?
Aerocort Rotacap is a medication used to treat Asthma (wheezing and shortness of breath). 
It relaxes the muscles in the airways, making breathing easier. Aerocort consists of the formulation of 100mg Levosalbutamol and 100mg Beclometasone.
Cipla Ltd is the manufacturer of Aerocort Rotacaps. 
These are also available in the strength of 50mg Levosalbutamol + 50mg Beclometasone in the form of Rotacaps and Aerocort Inhaler.
Aerocort Rotacaps Uses 
Aerocort Rotacaps are generally used to treat Asthma and Cystic Fibrosis. 
Aerocort Rotacpas contain Beclometasone Dipropionate and Levosalbutamol. It can help open up the airways that get narrowed when it's hard to breathe. 
Beclometasone Dipropionate calms the muscles and airways, making breathing easier. It helps treat coughing, trouble breathing, and tightness or pain in the chest.
Levosalbutamol helps reduce the swelling of the airways caused by asthma triggers like dust and pollen. 
Dust mites, pet dander, and airborne allergens like pollen are all things that can make asthma worse.
How to use Aerocort Inhaler?
Aerocort Rotacaps are only for inhalation with the Cipla Rotahaler/Revolizer.
Before you use an Aerocort, make sure you carefully follow all of the directions. Here's how to use an Aerocort inhaler:
Before each use, shake the inhaler 10 to 15 times
Place the mouthpiece in your mouth and turn it down
Press the inhaler once as you slowly try to take medicine through your mouth
Keep breathing in as much as you can
Repeat the process as many times as the doctor tells you to. Take out the inhaler and try to hold your breath until the countdown of 10
Put the inhaler's cap back on and make sure it's closed tightly
Aerocort Rotacaps are intended for long-term care rather than acute attacks. 
Therefore, some individuals will require a separate inhaler to relieve acute bronchospasm.
Try to limit Aerocort Rotacaps to three or four times per day.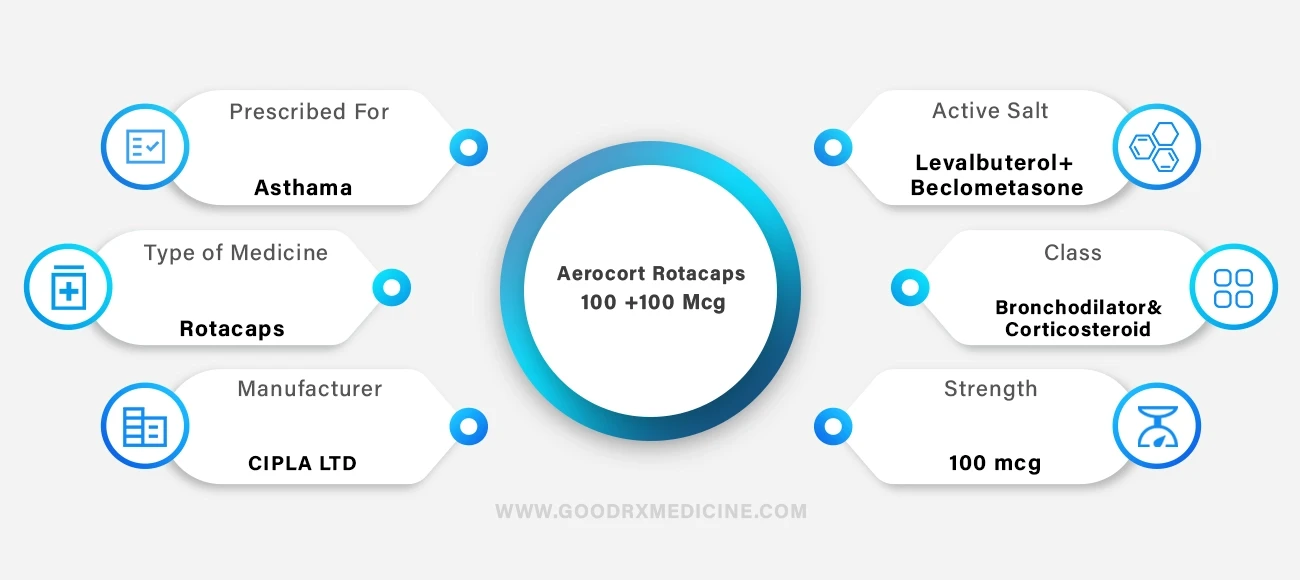 How does Aerocort Rotacaps work?
Beclometasone Dipropionate is renowned as a preventer. It is used to prevent asthma and control its symptoms. 
Beclometasone is given to people with severe asthma whose symptoms can't be controlled by other medicines.
It calms the immune system and decreases lung swelling while relieving breathing problems. 
Beclometasone treats coughing that can't be stopped and wheezing attacks.
Levosalbutamol is also used to treat asthma, a Chronic Obstructive Pulmonary Disease (COPD) lung disease. 
The active agent Levasalbutamol works by loosening the airway muscles and opening up the airways. This facilitates breathing.
It can also help people with breathing problems like puffed breathing. 
By relaxing the muscles in the airways, Aerocort helps get more air to the lungs.
Together the two active agents present in Aerocort Rotacaps facilitate easy breathing for folks suffering from resperatory problems.
Aerocort Rotacaps side effects
Some side effects of using Aerocort Rotacaps are as follows: 
Sore throat
Headache
Nausea
Oral fungal infection
Restlessness
Sinus or throat infection
Severe Hypokalemia
Tremors, especially in hands
Bone degradation
Electrolyte imbalance
Skin scarring
Behavioral changes
Cataracts
Reach out to your doctor if the side effects exist and cause you difficulty.
Interactions
You should always tell your doctor if you have any health problems, like heart disease, diabetes, or high blood pressure.
It is important to tell your general doctor about any vitamins, herbal supplements, or other drugs you are taking.
Drug Interactions
Some drugs present in various medicines may not work well with Aerocort Rotacaps. It can lead to side effects or make the medication less effective.
Some drugs that may interact with ingredients present in Aerocort are as follow:
Furosemide
Chlorthalidone
Hydrochlorothiazide
Disease Interactions
You should be careful taking Aerocort Rotacaps if you have the following conditions:
Cardiovascular diseases
Migraines 
Food interactions
The main component of Malegra is noted to interact with: 
Precautions
Using an Aerocort Rotacaps while pregnant might not be a good idea. It could hurt the baby in the womb.
It is probably safe to use Aerocort inhaler while breastfeeding. 
A breastfeeding mother can use an inhaler to help control the symptoms depending on how bad the asthma is. 
Always consult your primary care provider first.
When taken with alcohol, the Aerocort inhaler may make you feel too sleepy.
It should be used by adults and children aged four and up under the supervision of an adult.
Storage
Always keep Aerocort Rotacaps in a cool and dry place, away from direct sunlight. 
Keep Aerocort Rotacaps out of the reach of children.
General Frequently Asked Questions
How does Aerocort Rotacaps work?
Levosalbutamol and Beclometasone are present in Aerocort Rotacaps. 
It makes the muscles in your airways loosen up and get bigger.
What are Aerocort Rotacaps used for?
Aerocort Rotacaps is used to treat asthma symptoms such as wheezing, shortness of breath, tightness in the chest, trouble breathing, coughing, etc.
Disclaimer:
GoodRxmedicine is entirely unrelated to GoodRx in any way or form. We hereby deny any sponsorship, endorsement, or affiliation between GoodRx.com USA and Goodrxmedicine.com India. GoodRxmedicine is an Indian online Pharmacy only dealing in selling generic medicines in compliance with the law to its full extent of the Republic of India.
The content on this page is intended for informational purposes only and should not be construed as medical advice, treatment, or diagnoses under any circumstances. Goodrxmedicine.com - India is an online Indian pharmacy dealing in Generic pharmaceutical products within the permissible extent of the law. Before self-medicating, consult a doctor if you have any doubts or questions related to your health. For any queries or concerns, write to us at
support@goodrxmedicine.com