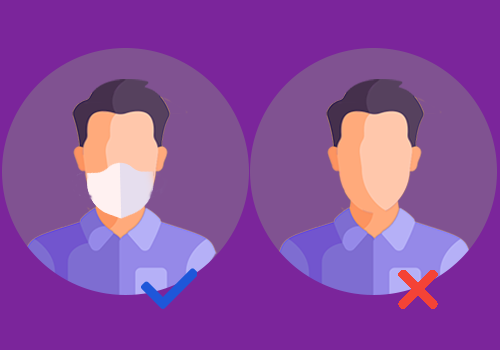 With the reopening of various states from shelter-in-place order, multiple parts of the nation now necessitate people wearing face masks in public spaces to minimize the transmission of COVID-19.
The COVID-19 pandemic has reconstructed life as we know it. Many of us are still staying home, avoiding people in public spaces, changing daily habits such as going to school, or work in unimaginable ways.
Apart from changing our old habits, we must adopt some new ones. The first and the foremost thing is to wear a face covering or mask in public spaces. In this blog, you will come across the points of the importance of wearing face masks or face coverings to prevent the transmission of the novel coronavirus.
Recently, the U.S. President, Mr. Donald Trump, was found COVID-19 positive. Mr. President avoided wearing masks in many public gatherings which resulted in the most powerful person of the world succumbing to the virus.
Earlier during the outbreak of the virus, the significance of wearing a mask was underestimated. This was based on the long-lived perceptions that medical masks (or surgical masks) are inadequate to defend the wearer from various respiratory pathogens, along with the interest of diverting fewer supplies from healthcare centers.
In recent months, scientists have done numerous research on preventing the spread of the novel coronavirus through face masks. Two apex health organizations, including the World Health Organization and the Centers for Disease Control and Prevention, have also changed their guidelines from "mask is not necessary" to "masks in public spaces are mandatory."
What Lessons We've Learned Through All This?
Masks or face coverings can offer some protection to the wearer and prevent the transmission of the virus. Many scientific experiments have revealed that face coverings may incorporate the tiny droplets that the wearer expels. These dops are accountable for most of the virus transmissions.
People were first advised to use the masks to protect themselves from the virus, but now the notions have changed. There is a need to consider the importance of wearing face masks to protect ourselves and protect the people in our surroundings.
Many people aren't aware that they are carrying the virus. It is estimated that about 40% of the COVID-19 cases are asymptomatic infections. This creates a significant difference between the actual cases and the reported cases. In the absence of proper screening facilities, many people are silently transmitting the virus in their community. What can you do to keep you and others in your surrounding protected? Wearing a face mask can be beneficial in this aspect.
Universal masks may substantially reduce the transmission of coronavirus in a community. A study suggests that wearing masks by everyone, coupled with other preventive measures, can significantly reduce the disease's COVID-19 numbers and deaths.
Wearing face masks are not the absolute barriers to the virus transmission, and therefore would be useless if not accompanied by other significant public health measures. Some essential public health measures include social distancing, contact tracing, screening, and restrictions on large social gatherings. Individually, these measures aren't perfect either, but together they can slower transmissions and minimize infections.
The U.S President, Mr. Donald Trump, has neglected his own health specialists' warning, saying that he knows better, challenging the science. Above all, he has particularly mocked wearing masks, disregarding public health officials' valuable advice that everyone should wear a mask to save numerous lives.
On a national debate stage with 73 million people in the picture, Mr. Trump attacked Democratic nominee Joe Biden for wearing a mask. He said - "I don't wear masks like him. Every time you see him, he's got a mask. He could be speaking 200 feet away from it and shows up with the biggest mask I've seen".
When CDC recommended American residents wearing face masks or face coverings in public, changing its previous guidance that masks weren't necessary, President Trump briefed this announcement to the general public on April 3rd. He emphasized that the practice is "voluntary" and "not mandatory." Since then, Mr. Trump has resisted wearing one.
White House Event
Last month, in a White House briefing, President Trump was asked why he doesn't wear a mask to lead by example, as opposed to reassuring supporters who view norms requiring masks as a breach of personal freedom.
Fundraiser In Texas
President Trump attended a fundraiser in Texas without wearing a face mask and with no enforced social distancing as COVID-19 cases surge in the state. Mr. Donald Trump participated in a fundraiser on September 25 at his Washington hotel. Republican National Committee Chairwoman Ronna McDaniel, who was there at the function, has since informed her COVID-19-positive status.
The following day, the White House organized events for Judge Amy Coney Barrett, Mr. Trump's nominee, to supersede the late Supreme Court Justice Ruth Bader Ginsburg. Visitors were examined for the virus and, if found negative, were notified that it was safe to take off their masks to mingle in the Rose Garden and in the White House. Pictures from the Rose Garden event demonstrate maskless people were sitting next to each other in rows of chairs.
President Trump downplayed the severity of the pandemic multiple times in various ways. Since the beginning, he sent mixed instructions on wearing masks and other preventive measures suggested by his own health specialists, as stated by Cohen, a former acting undersecretary for intelligence at the Department of Homeland Security.
Conclusion
Along with his staff and his campaign, Mr. Trump disregarded the CDC guidelines, and that dangerous behavior not only baffled Americans - positioning our communities at higher risk - but also made the White House a much more dangerous place to visit and work.
With God's grace, Mr. Donald Trump has responded well to the treatment and is out of danger now. His finest medical team proved successful in helping him fight the battle with COVID-19. The key here is that health organizations impose apt advice for public health. Please follow the guidelines of the Centers for Disease Control and Prevention and the World Health Organization sincerely. Disregarding them can put you and the people in your surrounding at serious risk.
Sources: